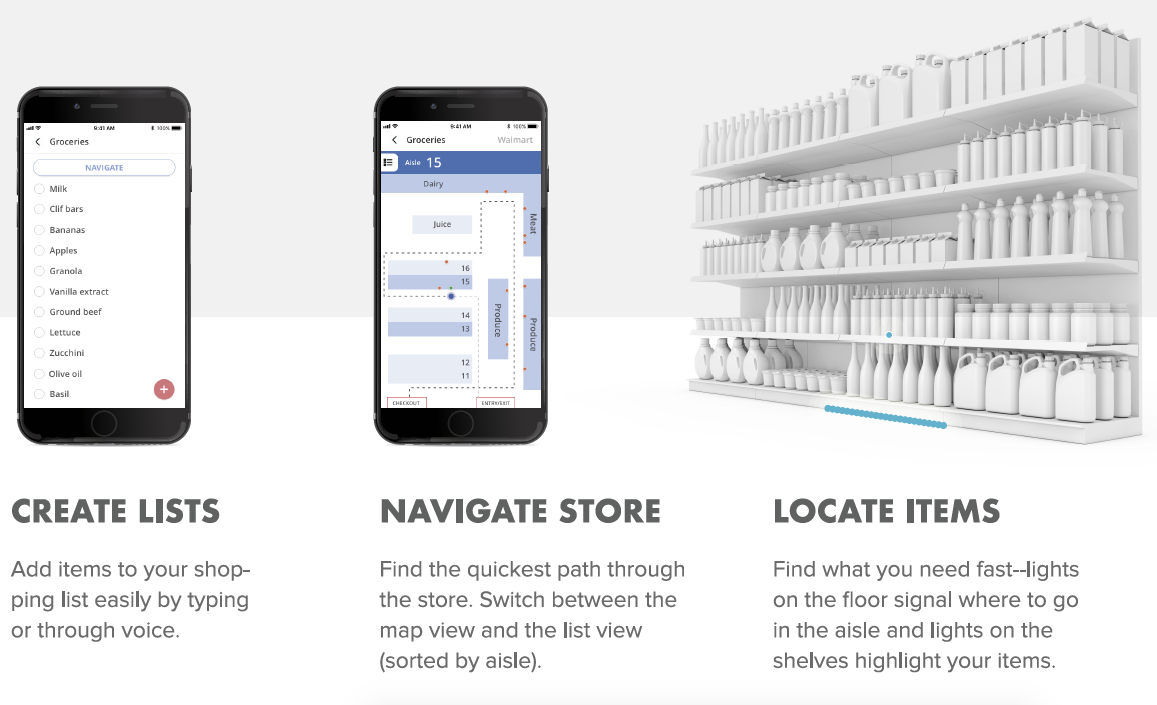 Grocery shopping can be challenging for people, especially when accompanied by children. Our research revealed two common complaints, both of which are especially true when children are involved:
shopping trips take too long and finding/remembering everything one needs is a challenge.
Our team designed a two part solution:
a mobile application that supports list creating and way-finding and an in-store LED light-based product location system
. All combined, our system helps users plan ahead for a shopping trip, navigate the store more efficiently, and find everything they need.
Aug '18 - Dec '18 (five months)​​​​​​​
User Research: 
Conducted an observational study at a local Walmart, completed a task analysis of a typical child-accompanied grocery shopping trip, co-designed a survey for parents, conducted three interviews with parents, participated in affinity mapping our data
Design:
Produced sketches and wireframes of one of our three initial design ideas, co-created a mind map of the ShopLight app, designed and prototyped the ShopLight app in Adobe XD
Evaluation:
Co-designed and conducted the A/B test of ShopLight, co-conducted the post-test questionnaire, contributed to the analysis of evaluation data
​​​​​​​

A teammate and I conducted observational studies at local Walmarts 
to learn about the task environment and our target users.
I produced a task analysis flow diagram
that broke down the different phases of a child-accompanied shopping trip.
I co-designed a survey
with the goal of discovering the common pain points and coping mechanisms associated with child-accompanied grocery shopping trips.
In order to better understand the needs and experiences of our users, we completed ten semi-structured interviews with parents.
I conducted three of the ten interviews.
By affinity mapping our data, we pulled out key patterns in our users' needs and experiences and begin generating design ideas.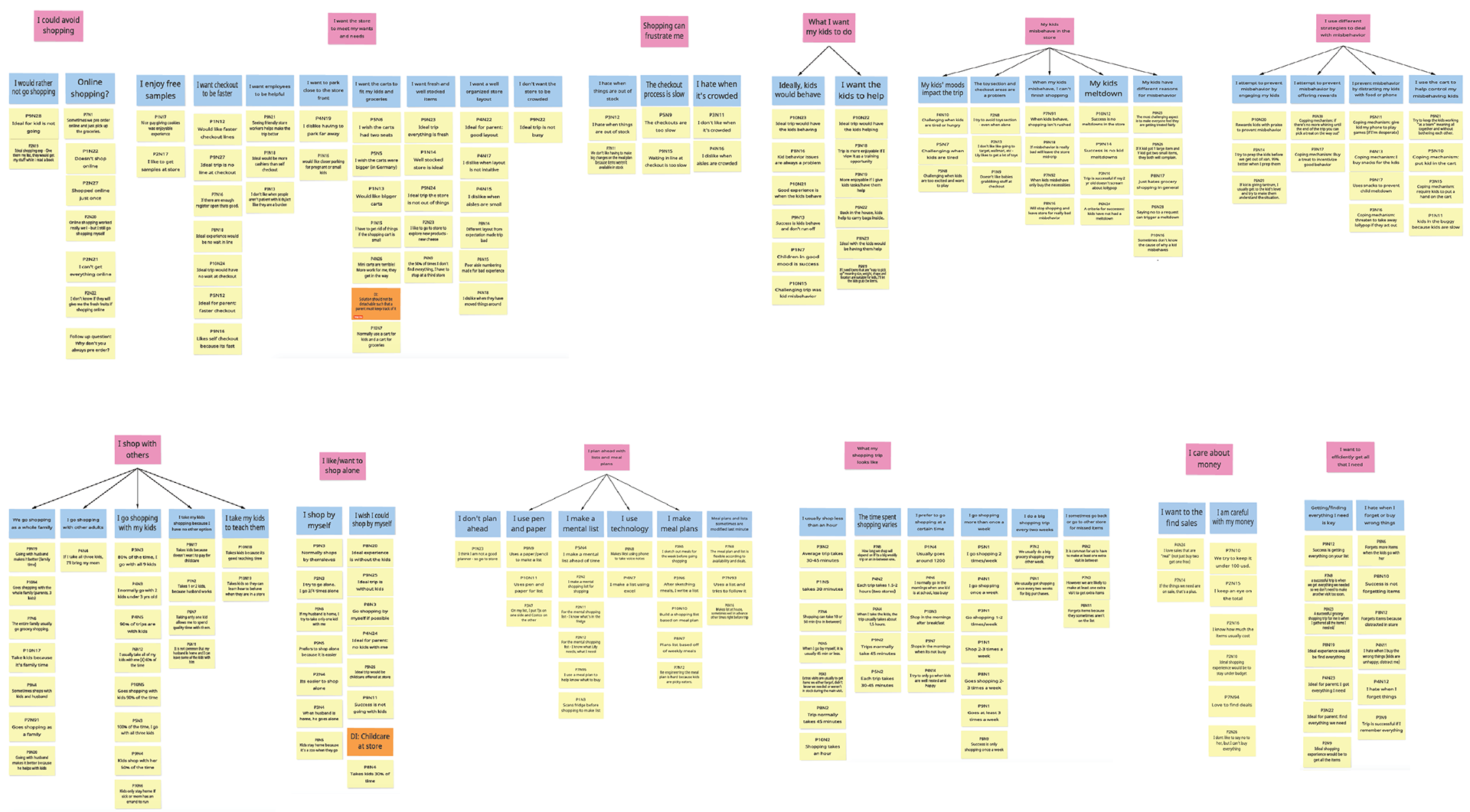 We explored three solutions, each of which addressed different problems faced by
our users.
I was responsible for sketching and fleshing out Idea 2 below.
Idea 1: Lighting System for Product Location
This system uses LED lighting and haptic feedback on the grocery cart to help users navigate the store and locate products on the shelves.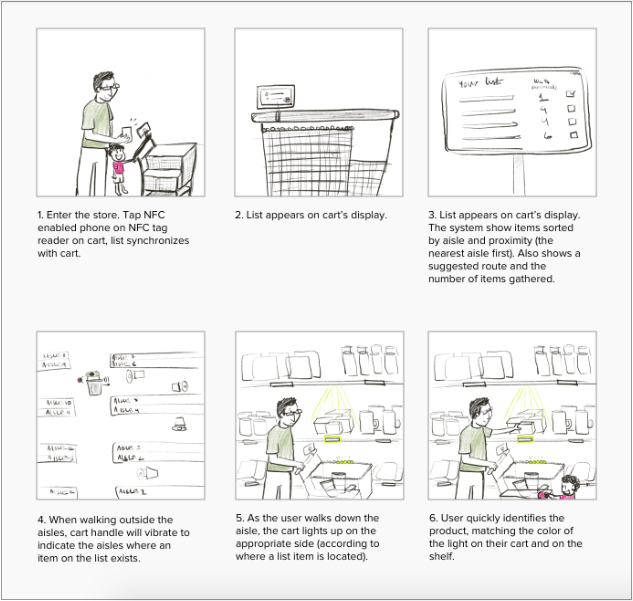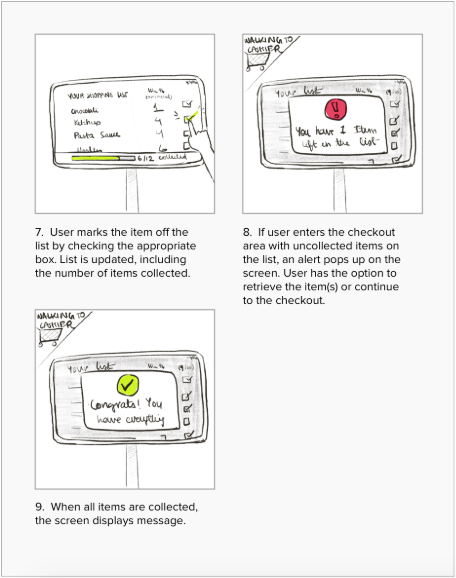 Idea 2: Cross Platform Shopping List
I designed a system involving three synced input methods (a digital paper-like surface, an app, and a digital assistant), that provides an easy and flexible way to plan ahead for grocery shopping trips and keep record of purchases.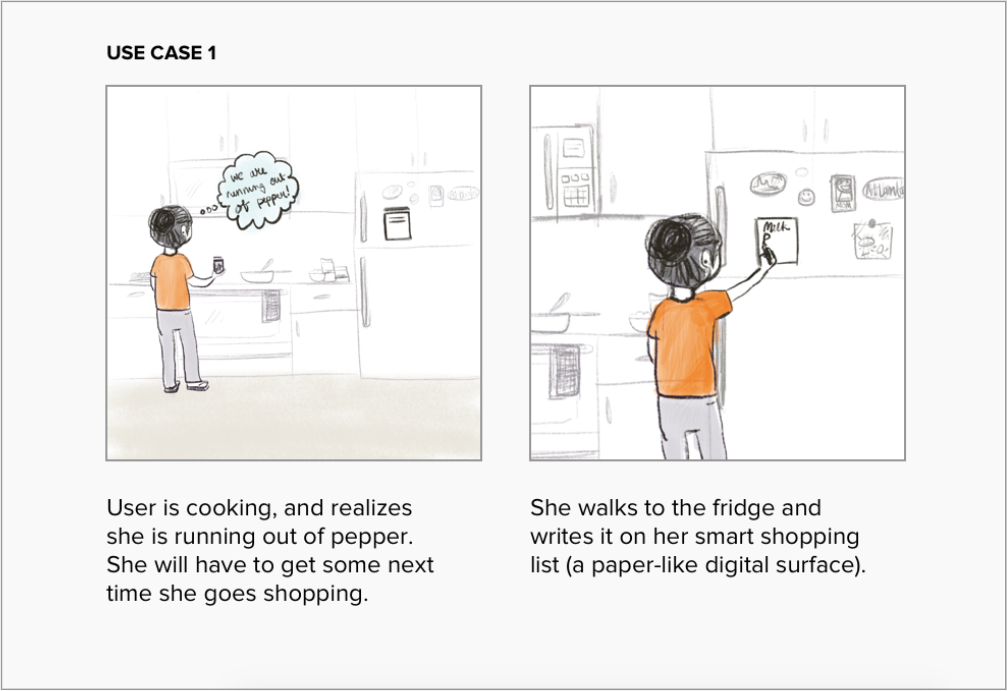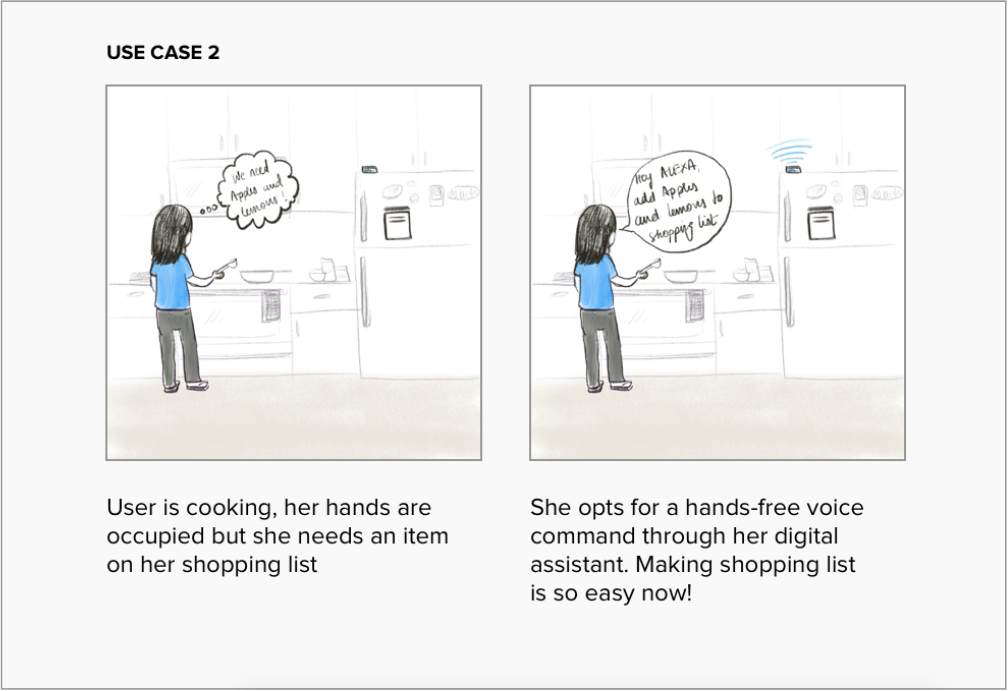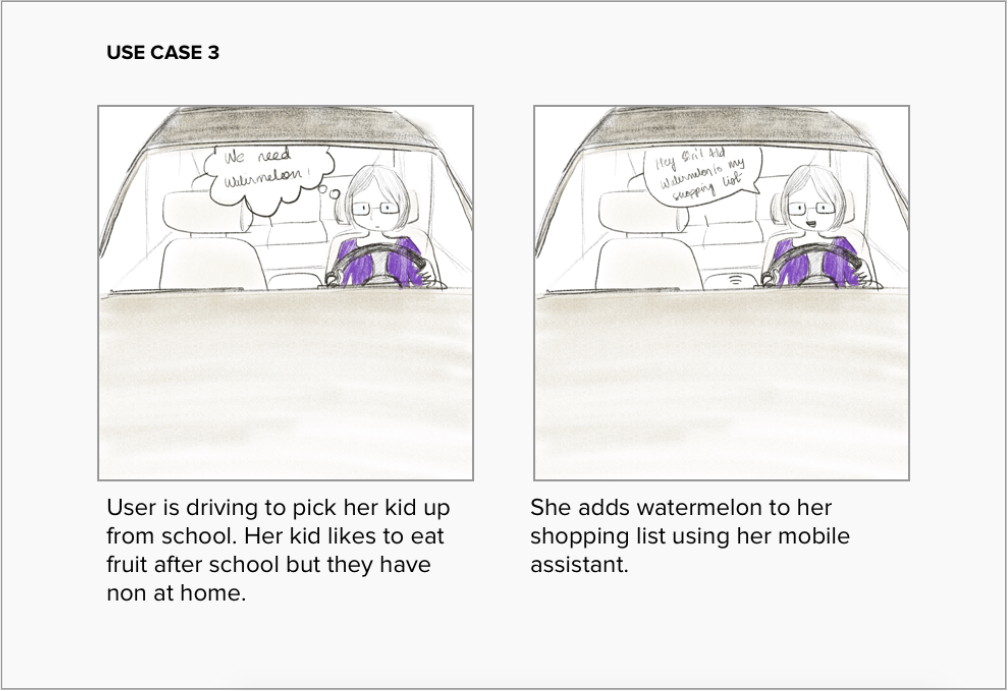 This system helps parents focus on shopping by engaging their children in the experience. It also provides users the option of checking out at the cart, enabling them to skip the checkout lines.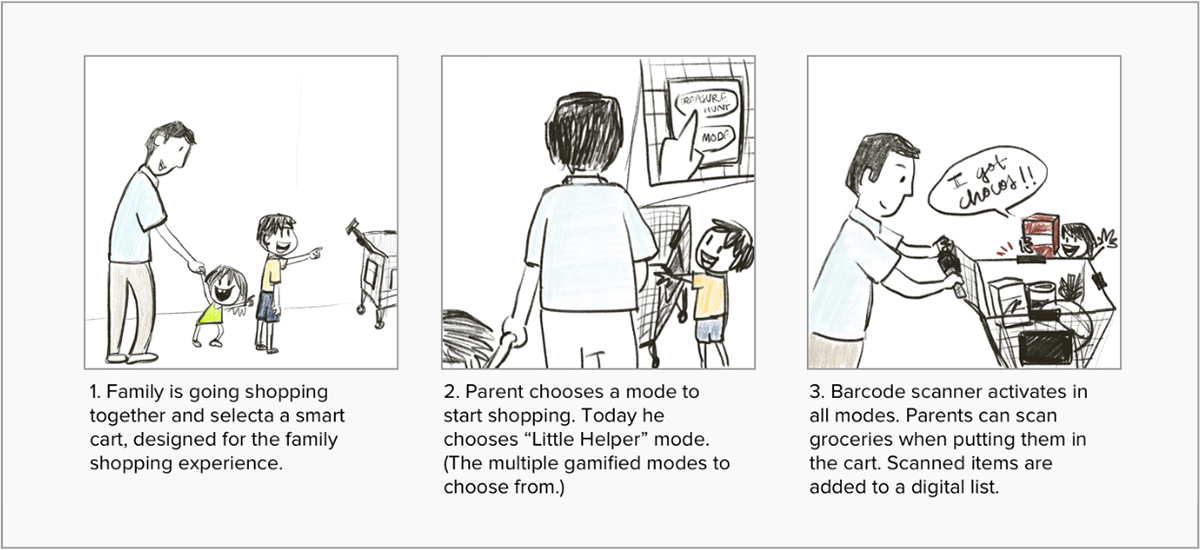 Our final two-part solution:
- A mobile application that supports list generation and in-store way-finding
- An in-store light-based product location system. 
At home or on the go, a user can make a shopping list flexibly and easily. Once at the store, she opens the app, finds her list, and uses the app's navigational features to make her way through the store. Inside an aisle, her items automatically light up on the shelves, making it easy for her to retrieve them.
After we created a mind map to guide our design, my teammate and I prototyped the mobile application using Adobe XD.
Since we were most interested in improving the in-store experience and exploring the interaction between the mobile app and the physical light-based prototype,
we focused on prototyping the in-store features of the app
(the navigation and product location components).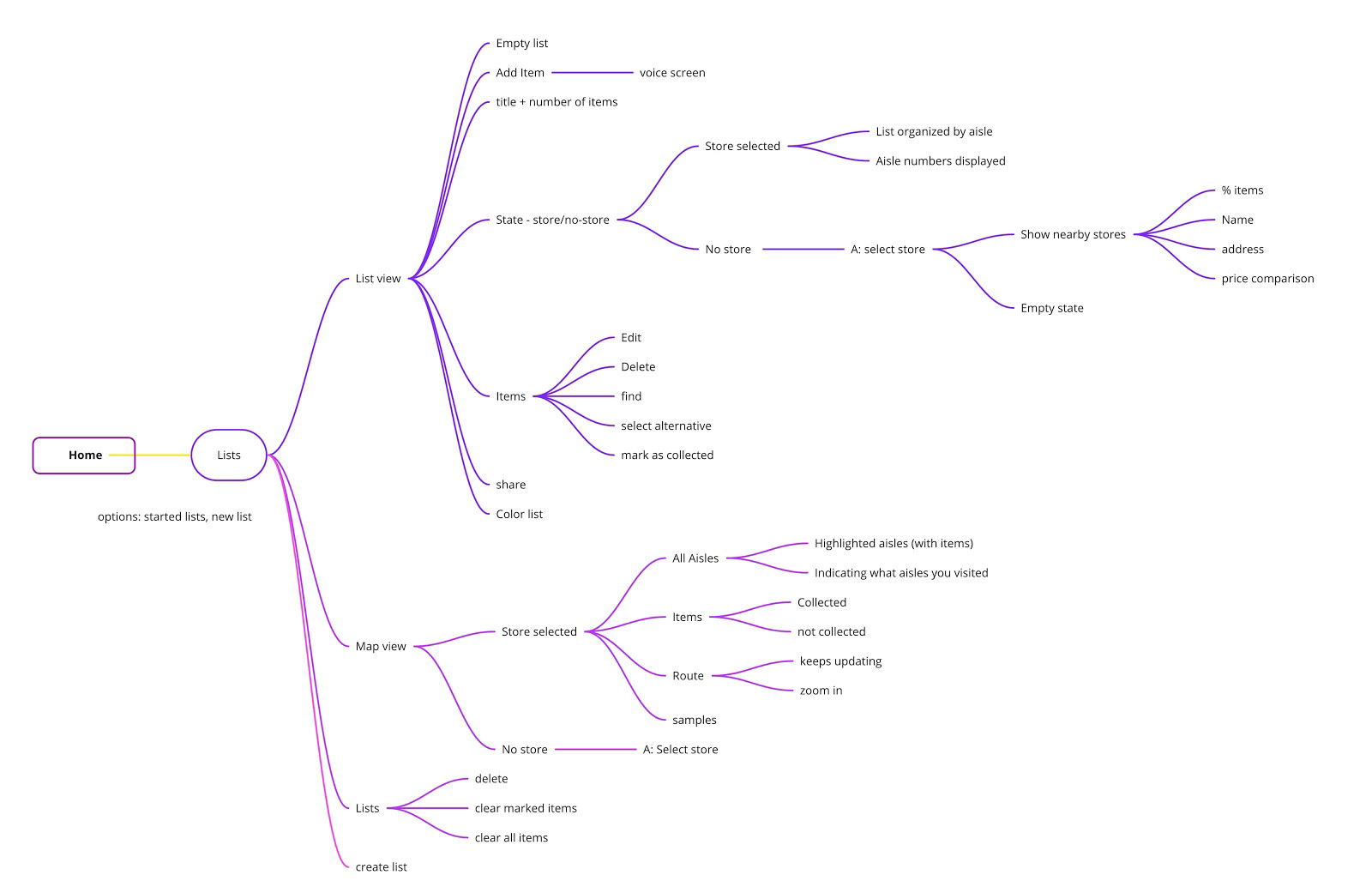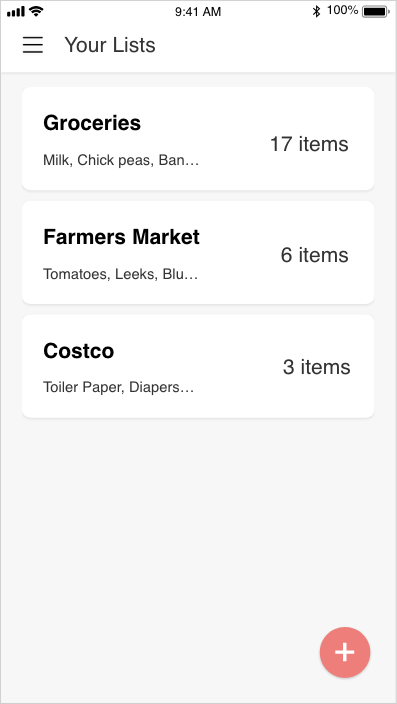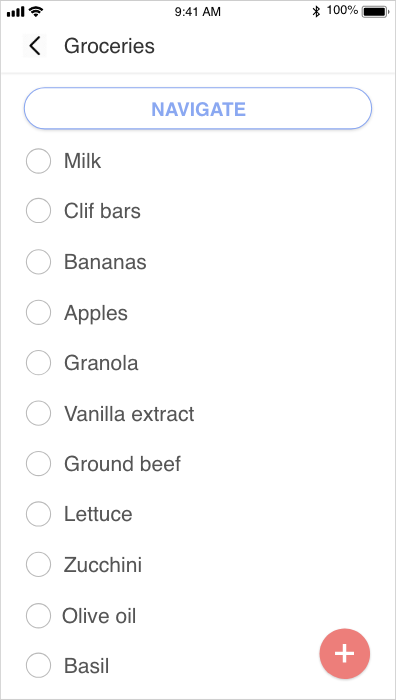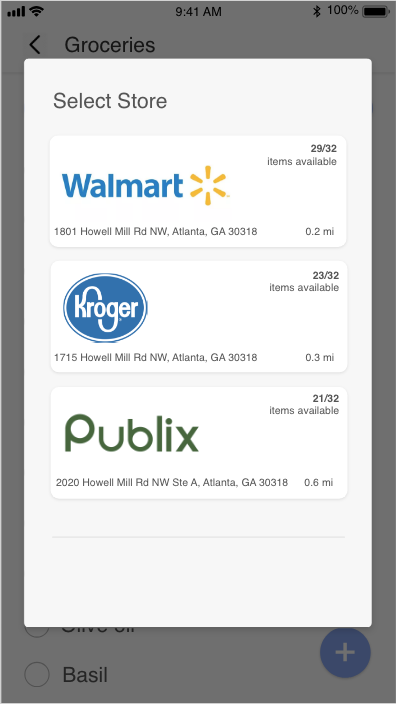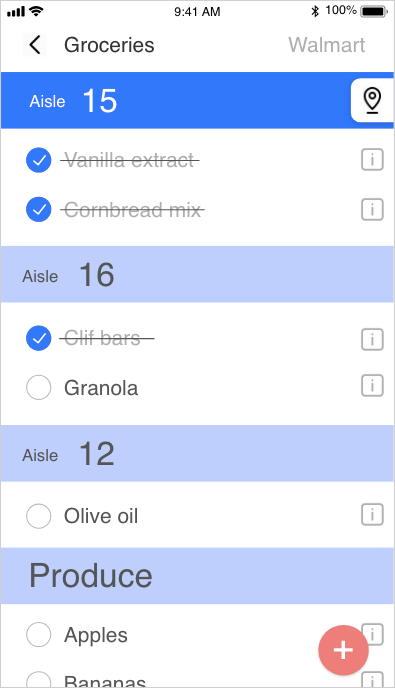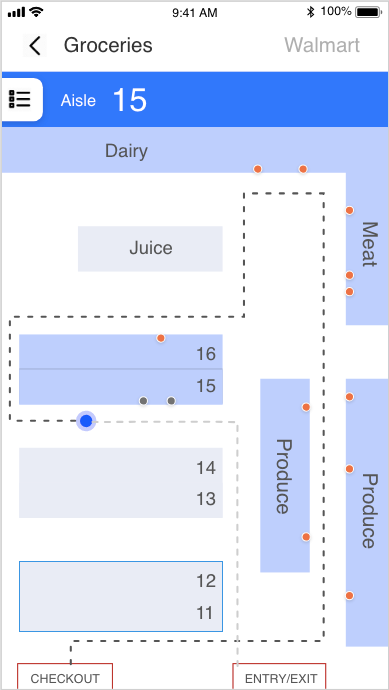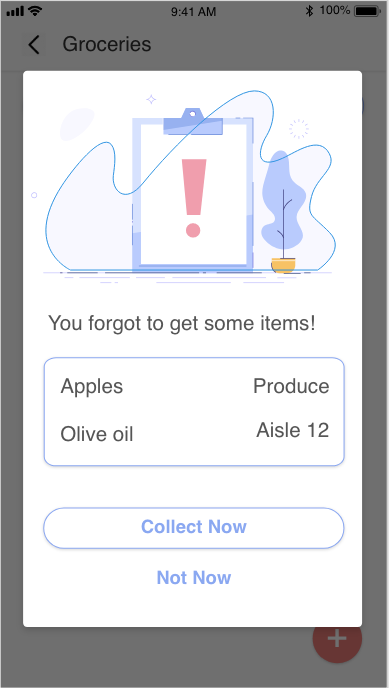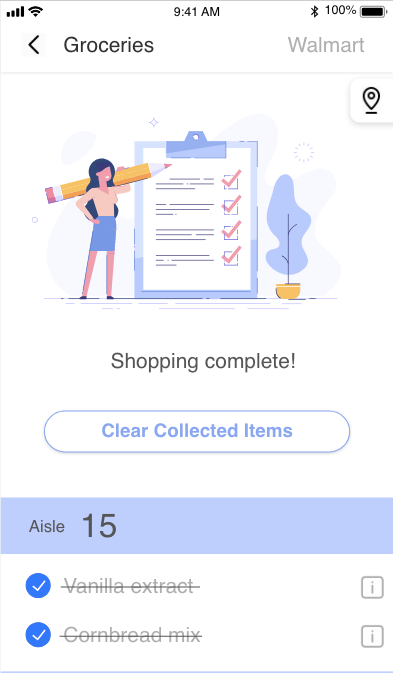 We built the physical prototype using an Arduino set and LED strips. In order to demonstrate how our combined system worked, we filmed a demo video at a local Walmart.  
1. A/B test of the ShopLight system 
Participants completed a shopping list with and without the system in place. We counterbalanced the presentation order of the A and B conditions and measured the time it took the participants to complete each round. This evaluation method was intended to determine whether or not our design accomplished one of its core goals: making grocery shopping faster for users.
I contributed to the session design and moderation.
2. Post-test questionnaire
This was intended to qualitatively explore the participants' thoughts and experiences while using the ShopLight system.
I co-designed the questionnaire and moderated four post-test sessions.
3. NASA Task Load Index (TLX) assessment 
Given after each condition, this allowed us to compare the cognitive loads associated with the A and B conditions.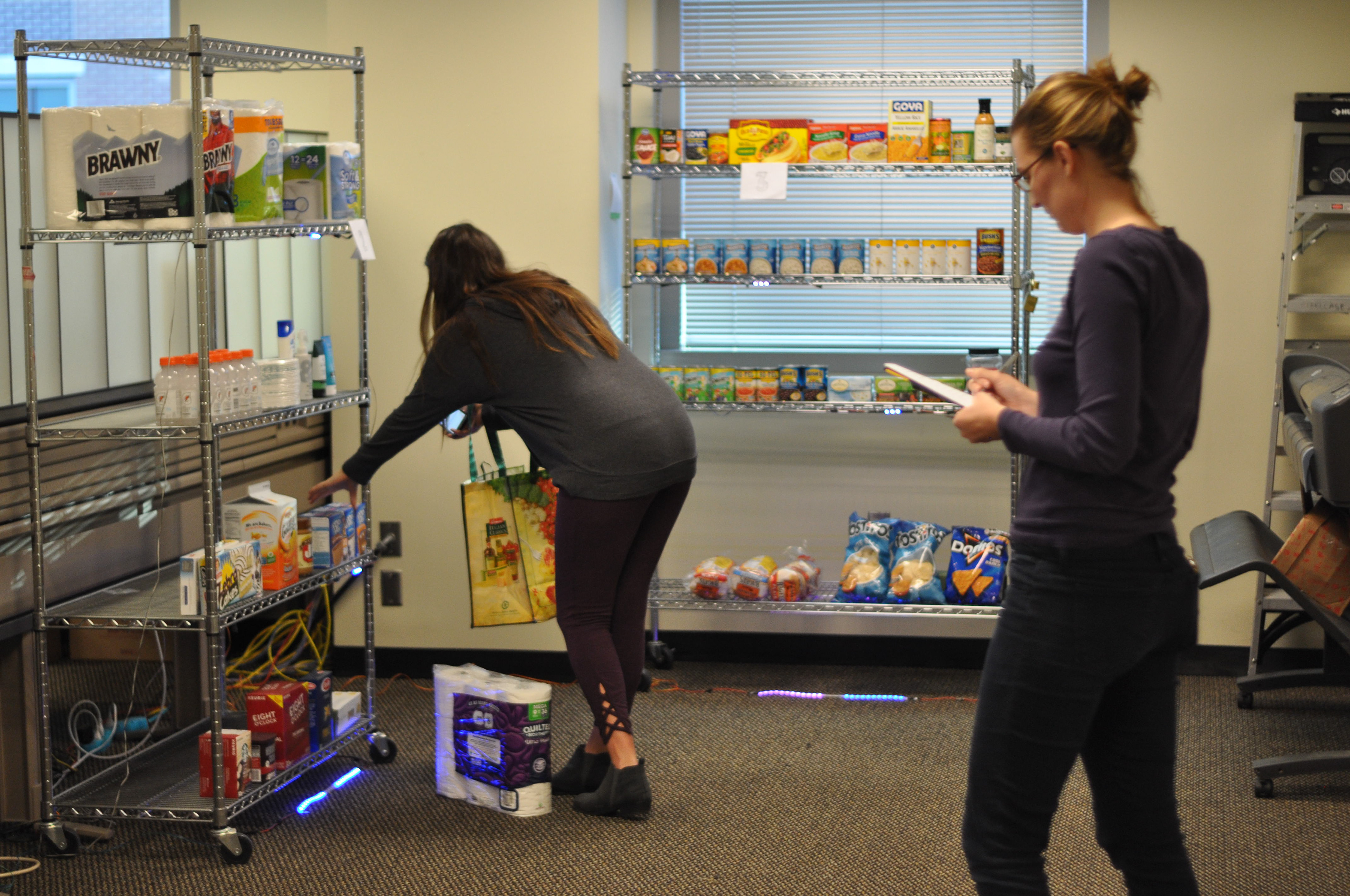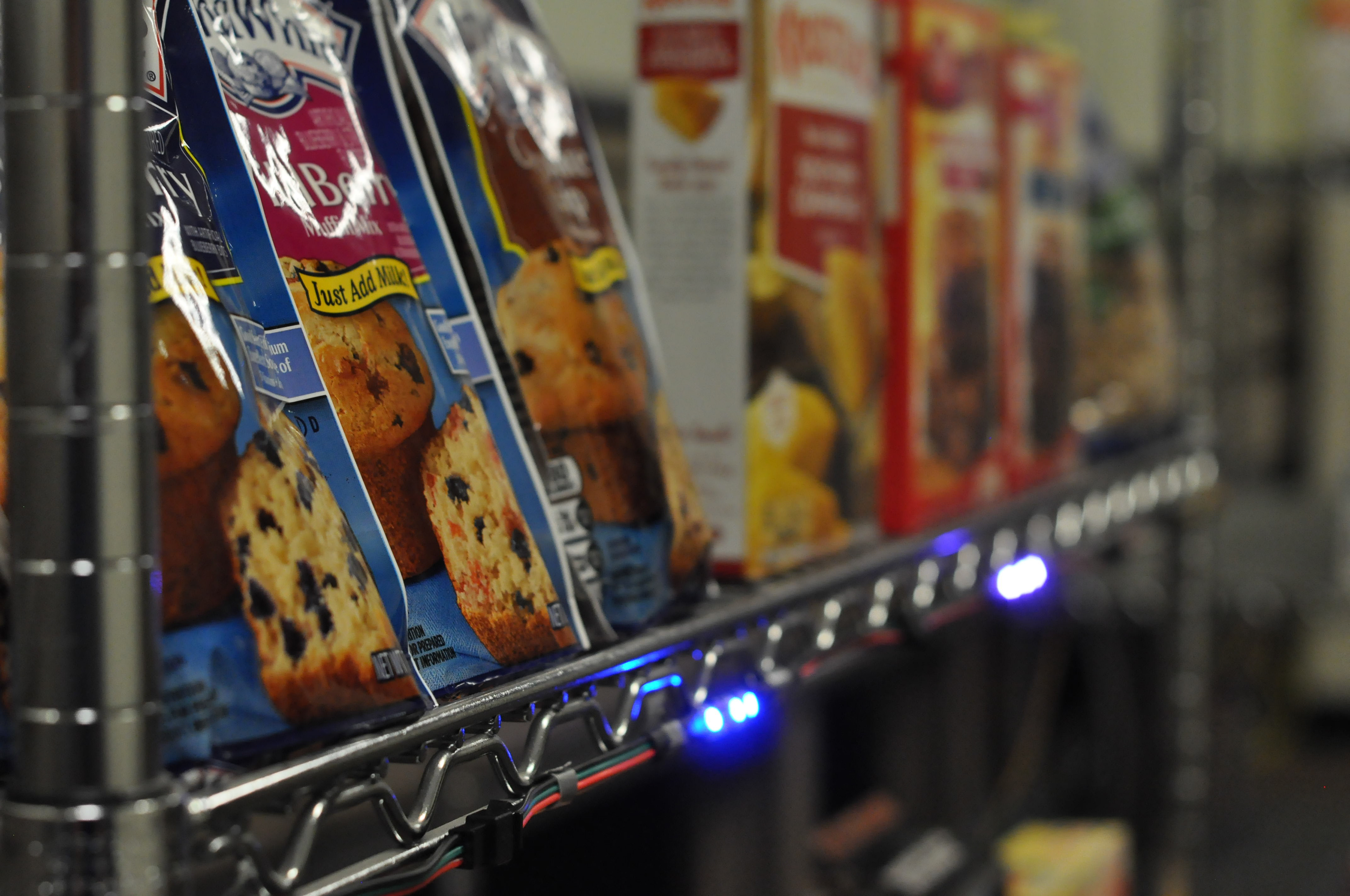 * The results of this study are specific to the subjects recruited throughout the five month project process and are not meant to be generalizable to the rest of the population.
- Though our evaluation efforts were limited by time and resource constraints, our results were promising. For the average user in our study,
ShopLight decreased shopping time and cognitive load
, which were our two goals for the system.
- In the A/B test, participants were 
24.84 seconds faster
(on average) at collecting their shopping list items when assisted by the ShopLight system.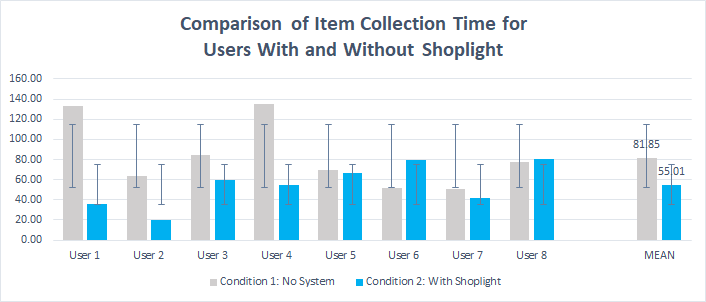 - The participants' NASA TLX scores showed a
47.11% average decrease in cognitive load
when assisted by the ShopLight system.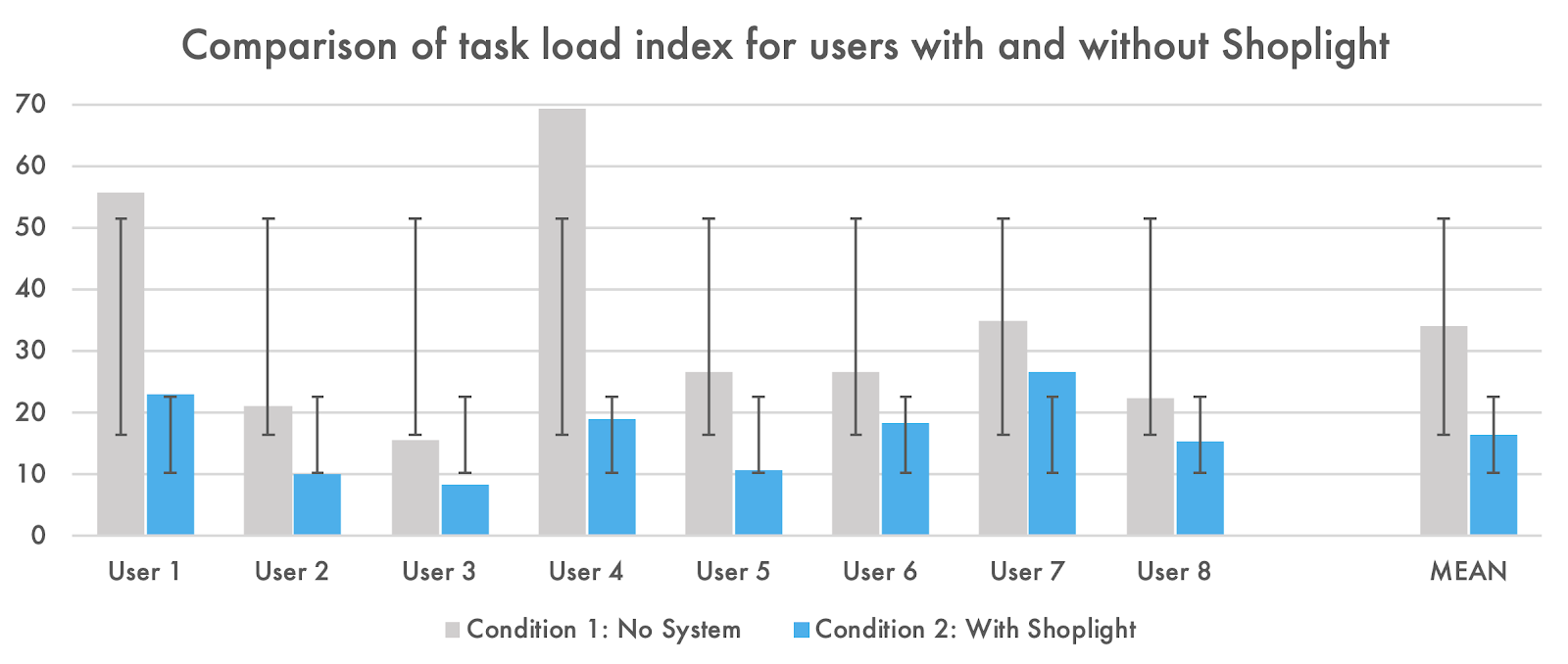 - We conducted the evaluation methods in a simulated store environment, which meant that typical environmental factors (sounds, lighting, the presence of other shoppers, etc.) were missing. Proper evaluation of the ShopLight system would need to take place in a real store.
- Our light-based prototype was small in scale, with the capacity to highlight only four items. In order to properly evaluate the effectiveness of the ShopLight system, we would need to build and test a much larger prototype that spanned multiple grocery aisles.
- Some participants claimed that the lights were distracting and over-stimulating. In a future iteration, it would be useful to test a version of the system in which users had to "click to find" an item. In other words, users would indicate when they needed help finding an item, triggering the item light to illuminate. This would reduce the number of illuminated lights and potentially address the over-stimulation concern.
​​​​​​​
- Warehouse item location
- Online grocery ordering fulfillment
- Replace the LED component with an AR product location system
- "Click to find" version, where only specified items illuminate