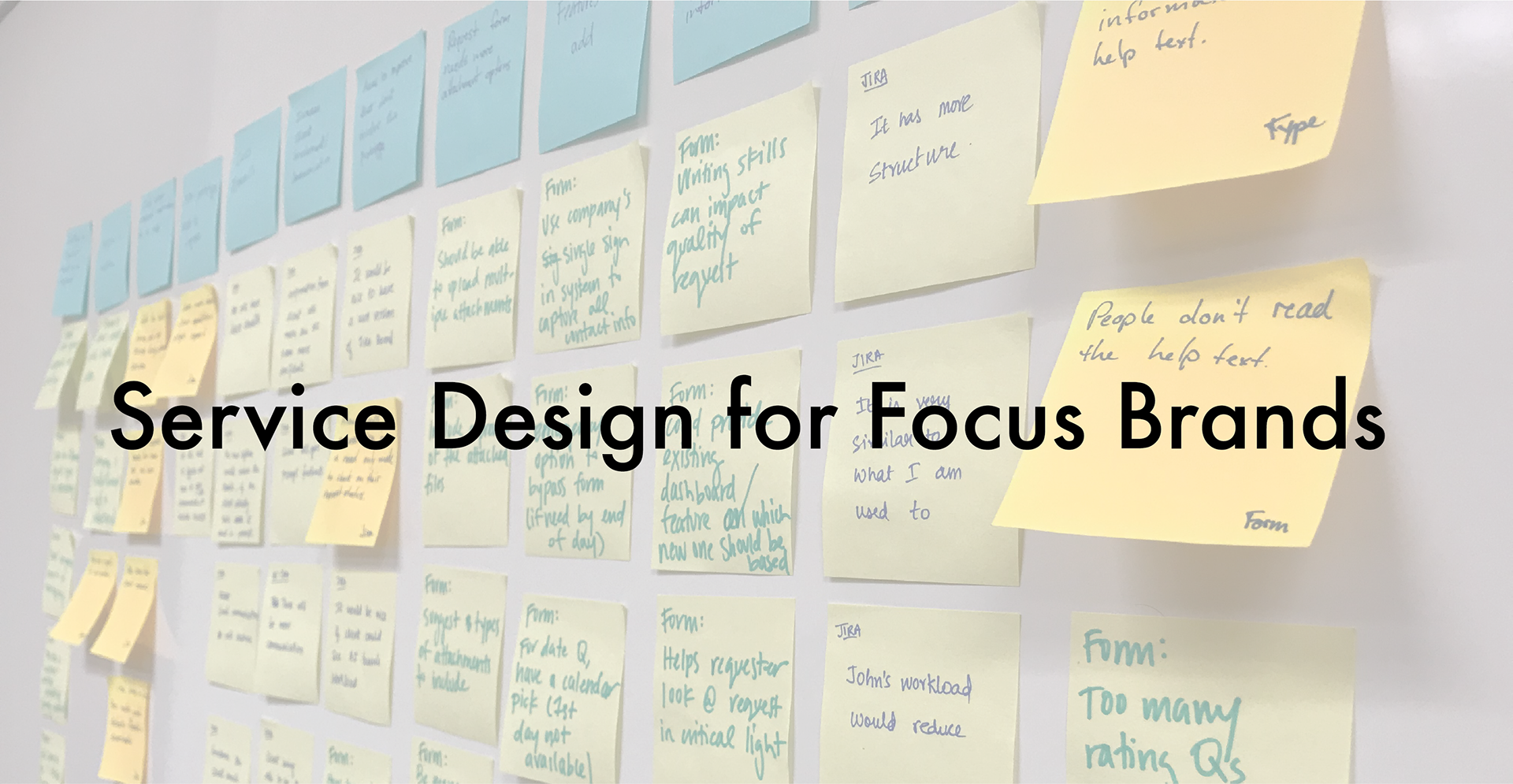 The Focus Brands Business Intelligence (BI) team's communication systems lacked
 a centralized point of entry
through which their clients can make requests, 
an efficient process for orienting to a new project
, and 
an effective tracking system
that keeps record of all requests received and all work being done.
Our service design solution includes 
a multi-branched request form
that serves as a point of entry for clients and that provides important information with which the BI team can orient itself to a new project, 
a modified workflow on Jira
(a task management software) that tracks all requests and work being done with maximal clarity and efficiency, and 
an automated email scheme
 that reduces the need for BI team members to communicate directly with clients.
Aug '18 - Dec '18 (five months)​​​​​​​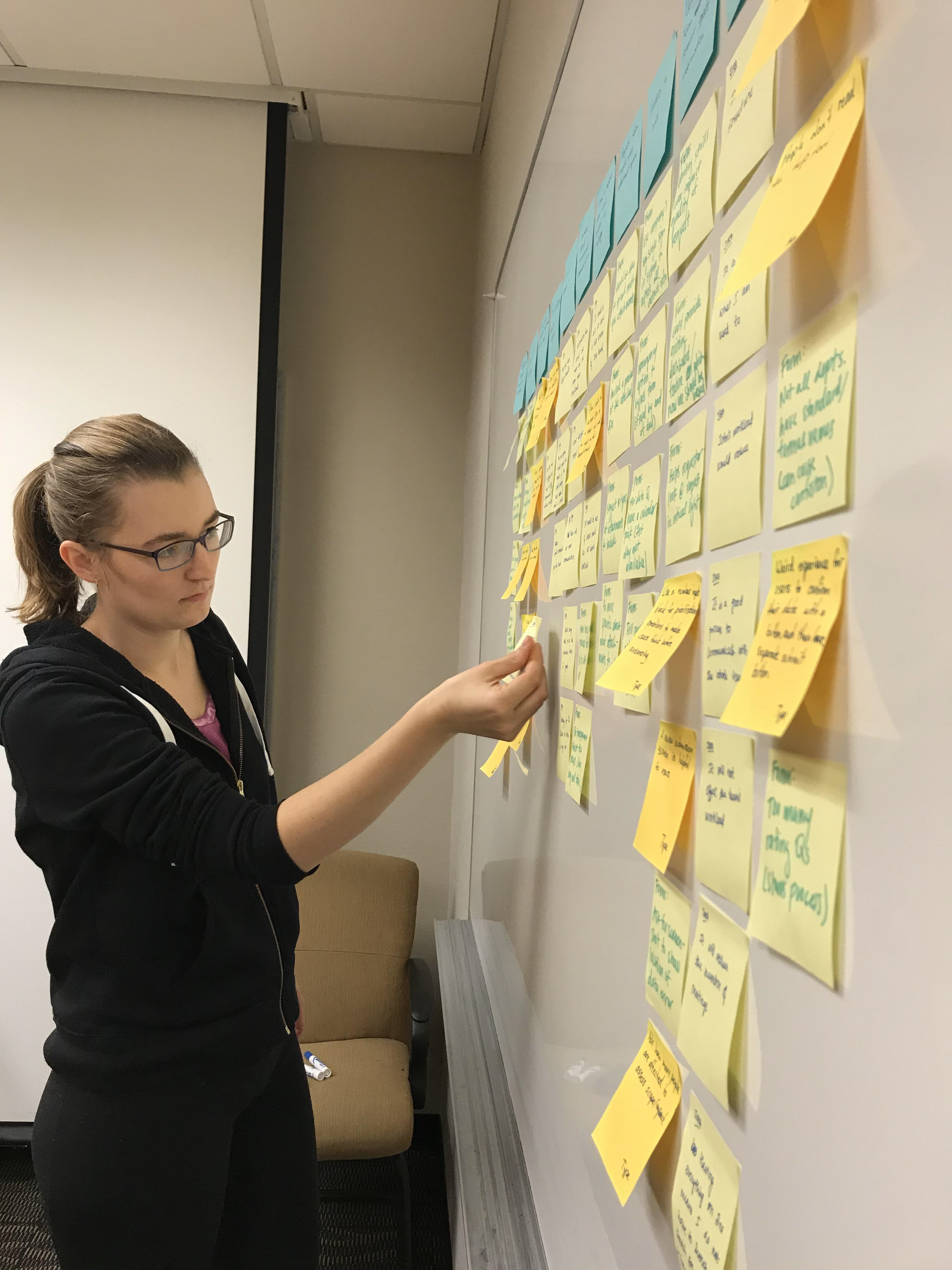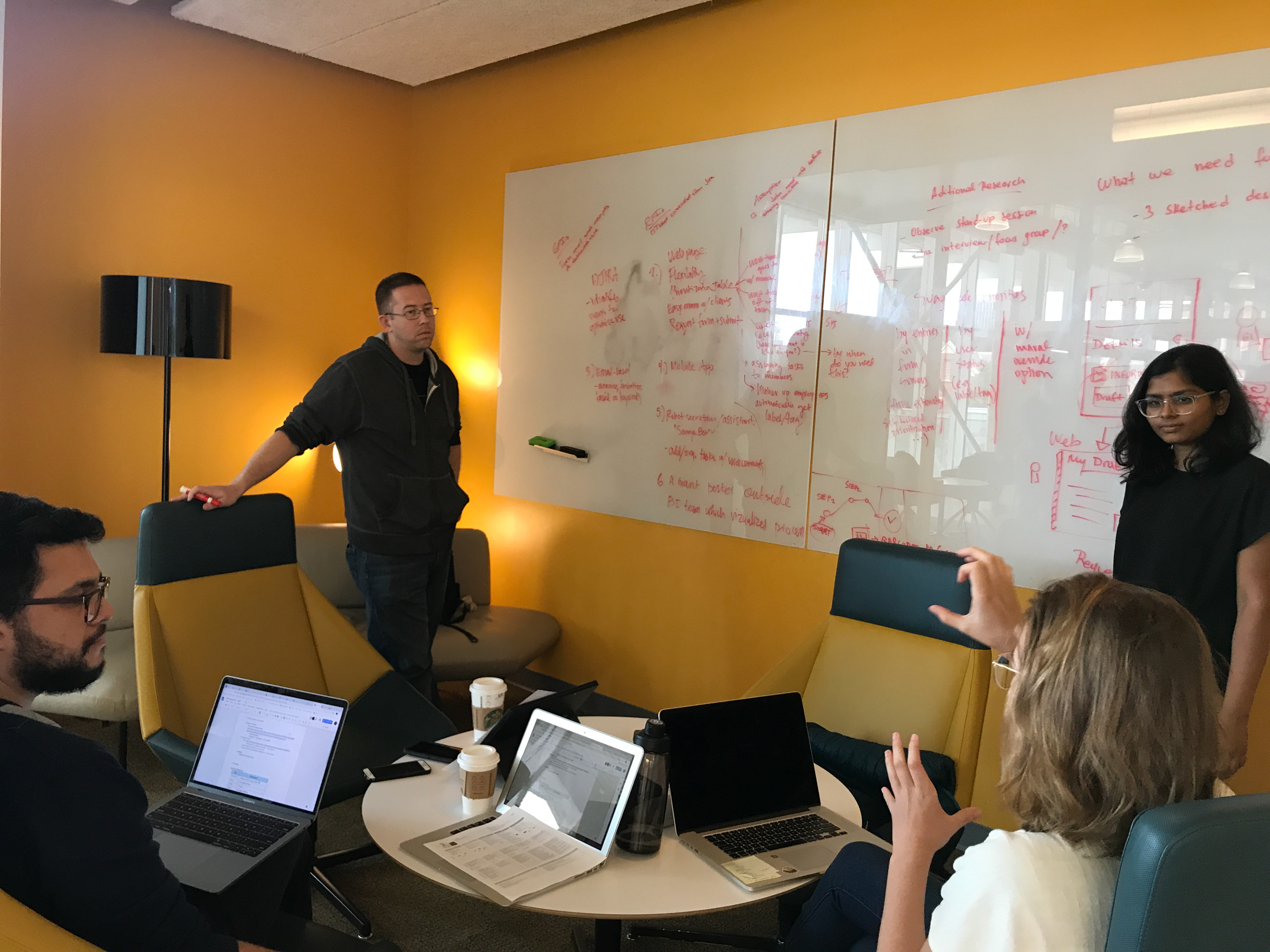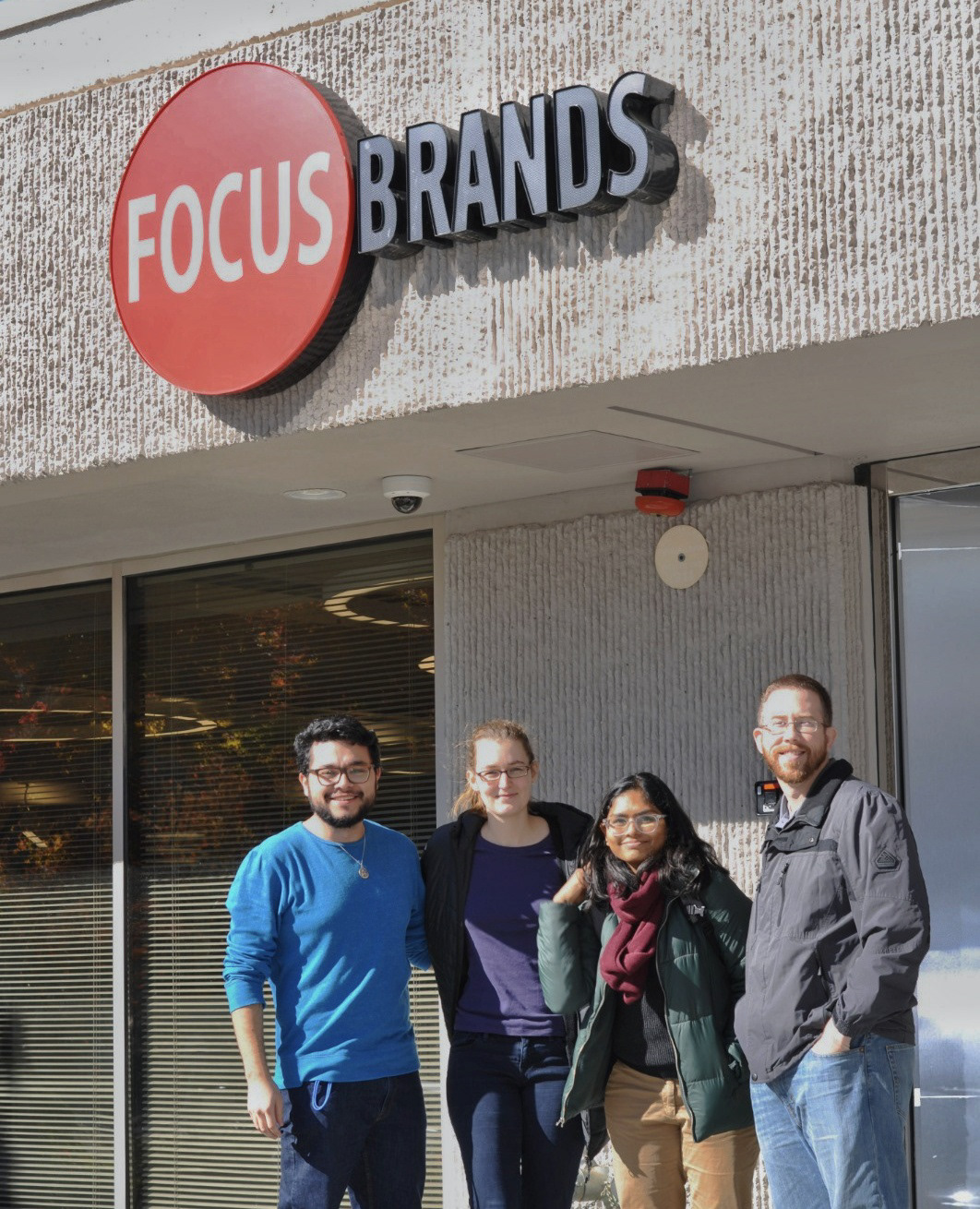 User Research:
Led the literature review, recruited participants, conducted four interviews, performed a task analysis for the BI team's project workflow, participated in analyzing data through an affinity map, produced personas of three target user types
Design:
Participated in brainstorming and ideation processes, produced sketches of an early design iteration, co-designed, moderated, and analyzed two user feedback sessions
Evaluation:
Co-designed and conducted a task-based benchmark test with three clients of the BI team, served as the expert evaluation session notetaker, participated in the analysis of evaluation insights

I took the lead on conducting a literature review
in order to explore how BI works, the importance of BI in modern business management, how BI improves decision-making, the stages of BI adoption, and what makes for good quality data and visualization.
We gained valuable information about client needs, the communication methods used at the company, and BI team workflows. 
I conducted three of the seven interviews. 
This method provided insights about the BI team's current communication, prioritization, and task management systems and helped us understand at a granular level the process by which a request becomes a completed project.
A teammate observed the BI team's weekly stand-up meeting and learned about the team's check-in, planning, and prioritization processes, as well as how the team uses Jira.
I produced a hierarchical task analysis flow diagram,
depicting the steps each request type undergoes and the relationships between them.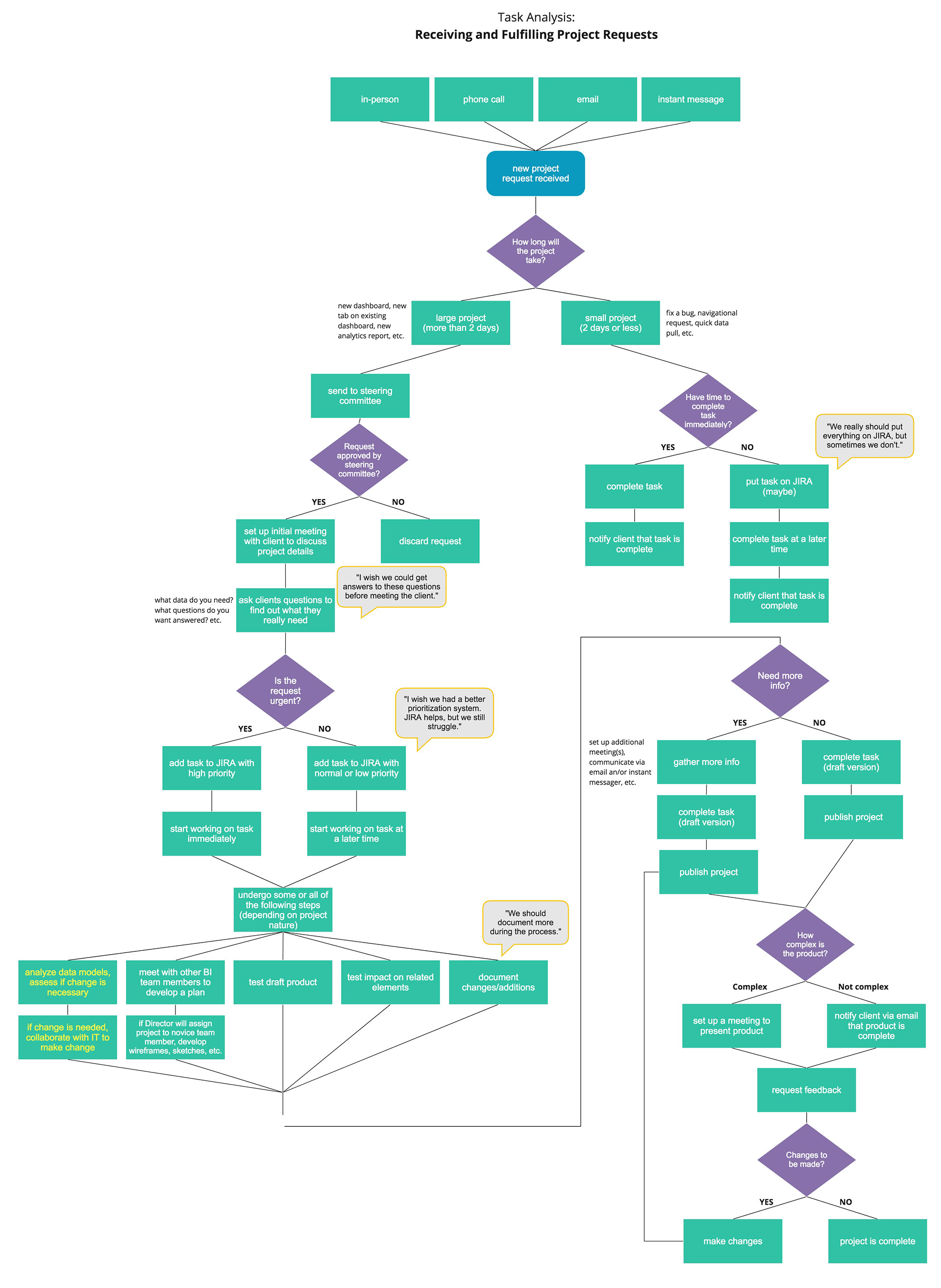 We affinity mapped our data, which allowed us to discover important patterns and develop design ideas.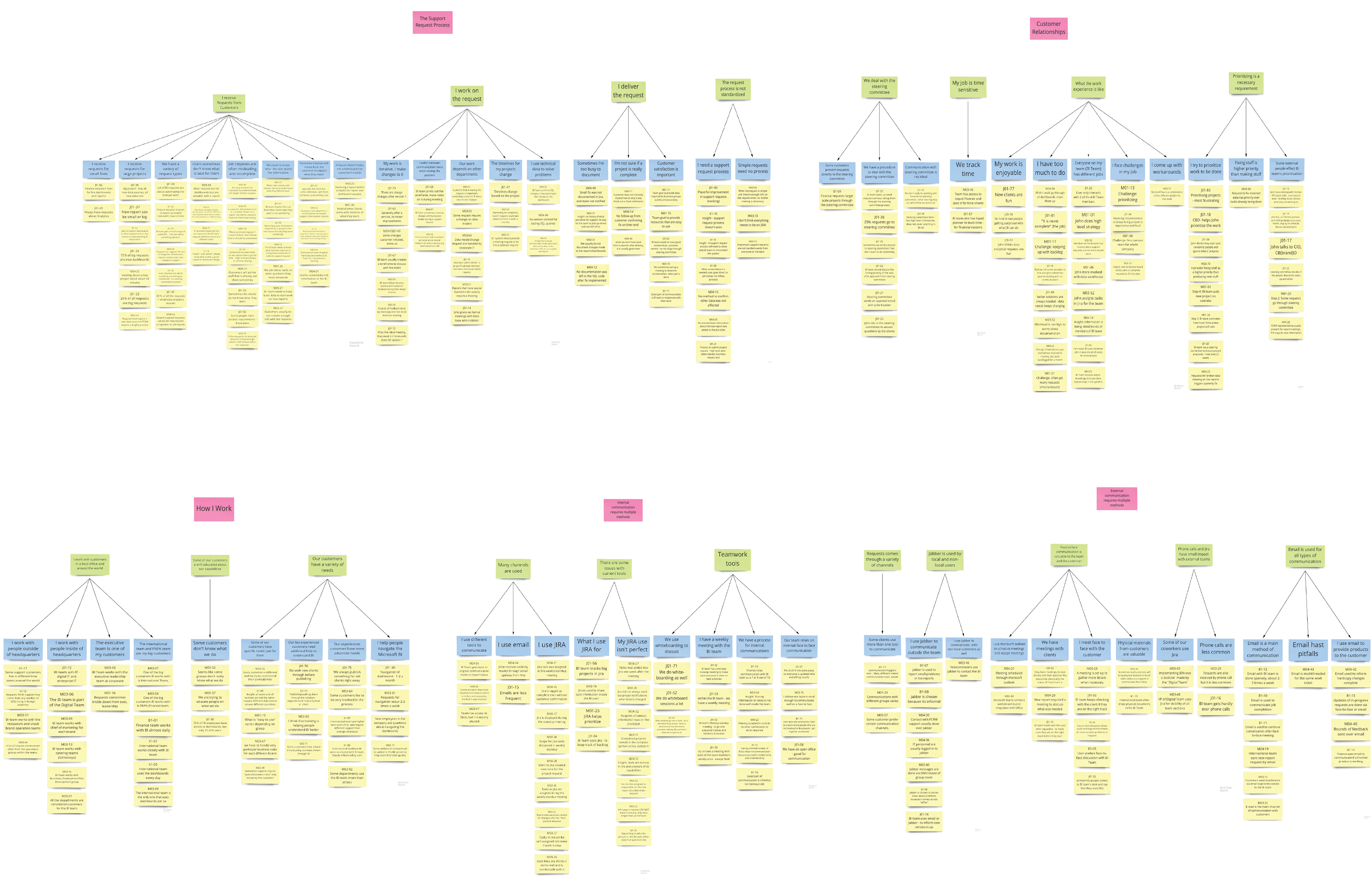 I developed personas for our user types
.
These proved highly useful in the latter stages of our design process, as one of our priorities was ensuring the needs of all users would be met by our ultimate solution.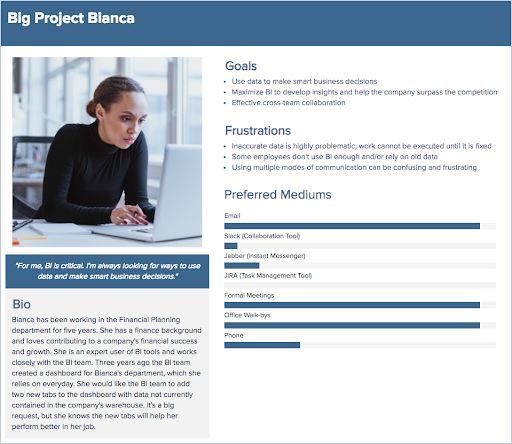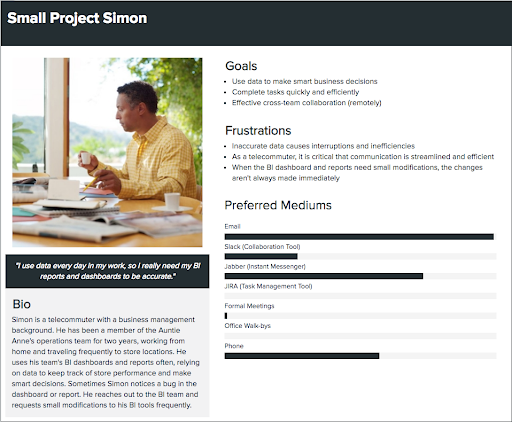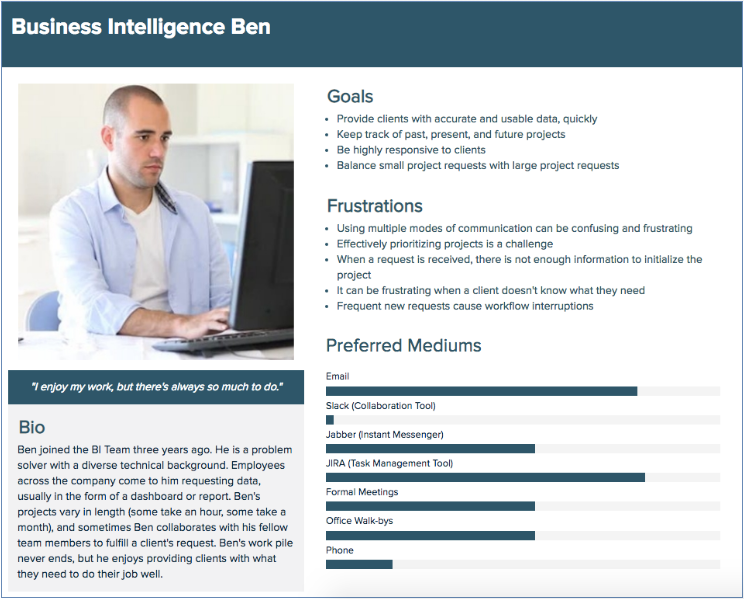 A teammate developed a user journey map for "Business Intelligence Ben" to better understand and represent how the members of the BI team conduct their work and communicate internally and externally.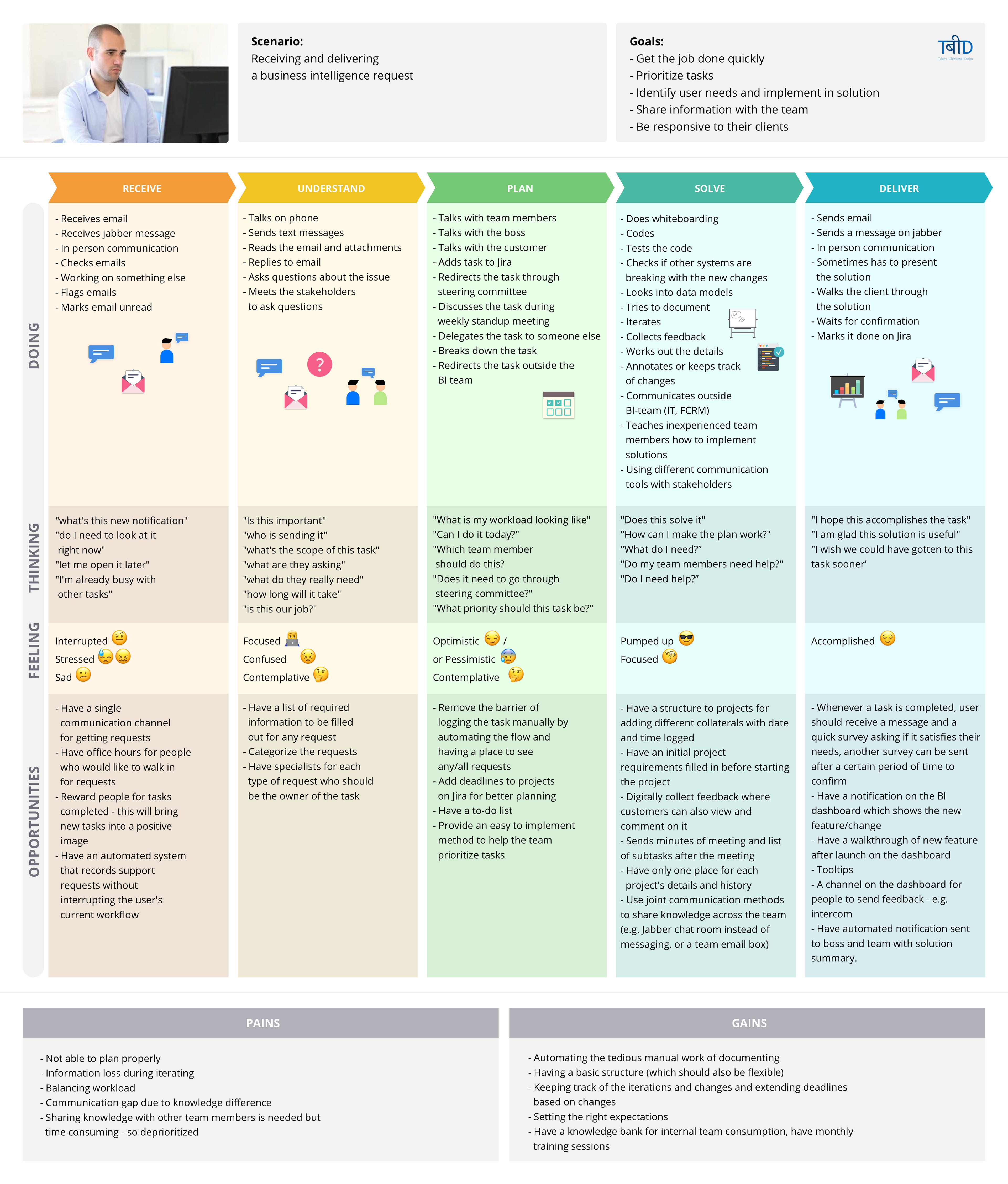 We sketched three potential solutions for the BI team and presented them in a feedback session. We strived to cultivate a participatory atmosphere in which our users felt empowered and able to shape the solution.
I developed the sketches for Idea 3 and moderated the feedback session.
Located on the company's BI dashboards, the chat bot automates common client interactions.
Idea 2: Jira-integrated request form
The form streamlines communications, increases client engagement, and provides the BI team with detailed information at the outset of a new project. 
Idea 3: Mobile app for on-the-go requests
The app enables BI team members to create new tickets on the go with the goal of ensuring that all projects, no matter when or where they surface, are added to the Jira board.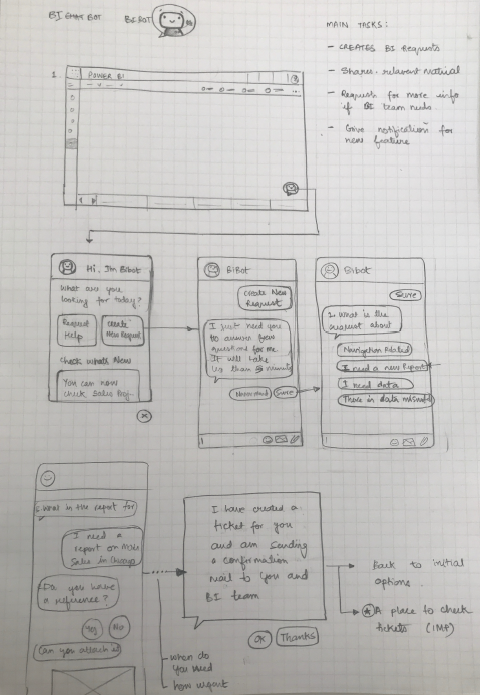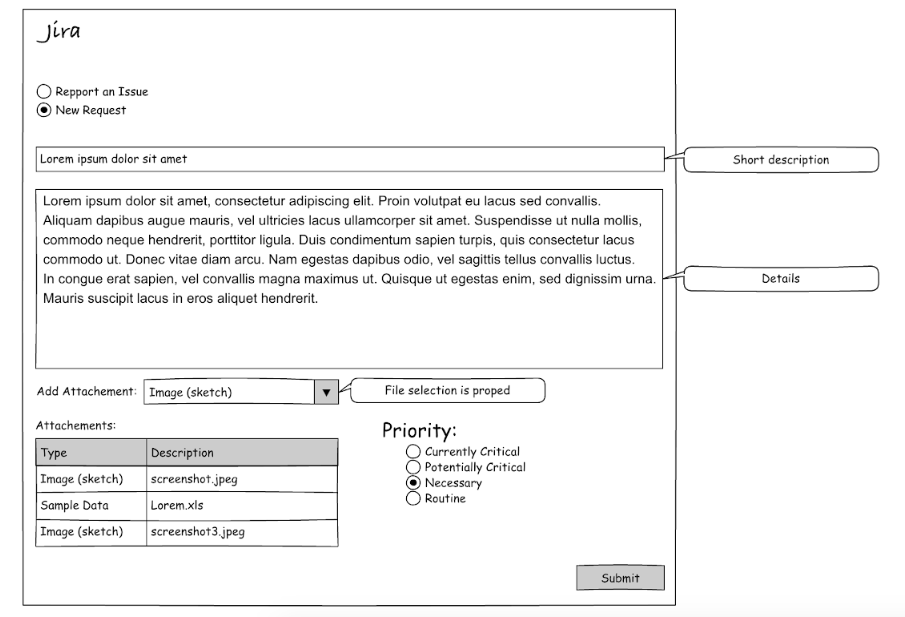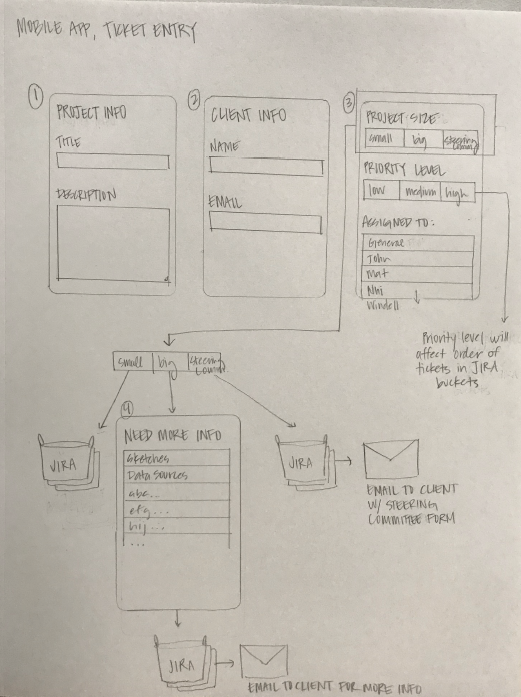 Taking into account our users' feedback, two teammates developed wireframes of our final solution, which included:
- 
An optimized Jira workflow
- 
A dynamic multi-branched request form
that allows clients of the BI team to submit requests in an intuitive and efficient way and provides the BI team with the information needed to get started on a new project
- 
An automated and Jira-integrated email scheme
that reduces the need for BI team members to contact clients directly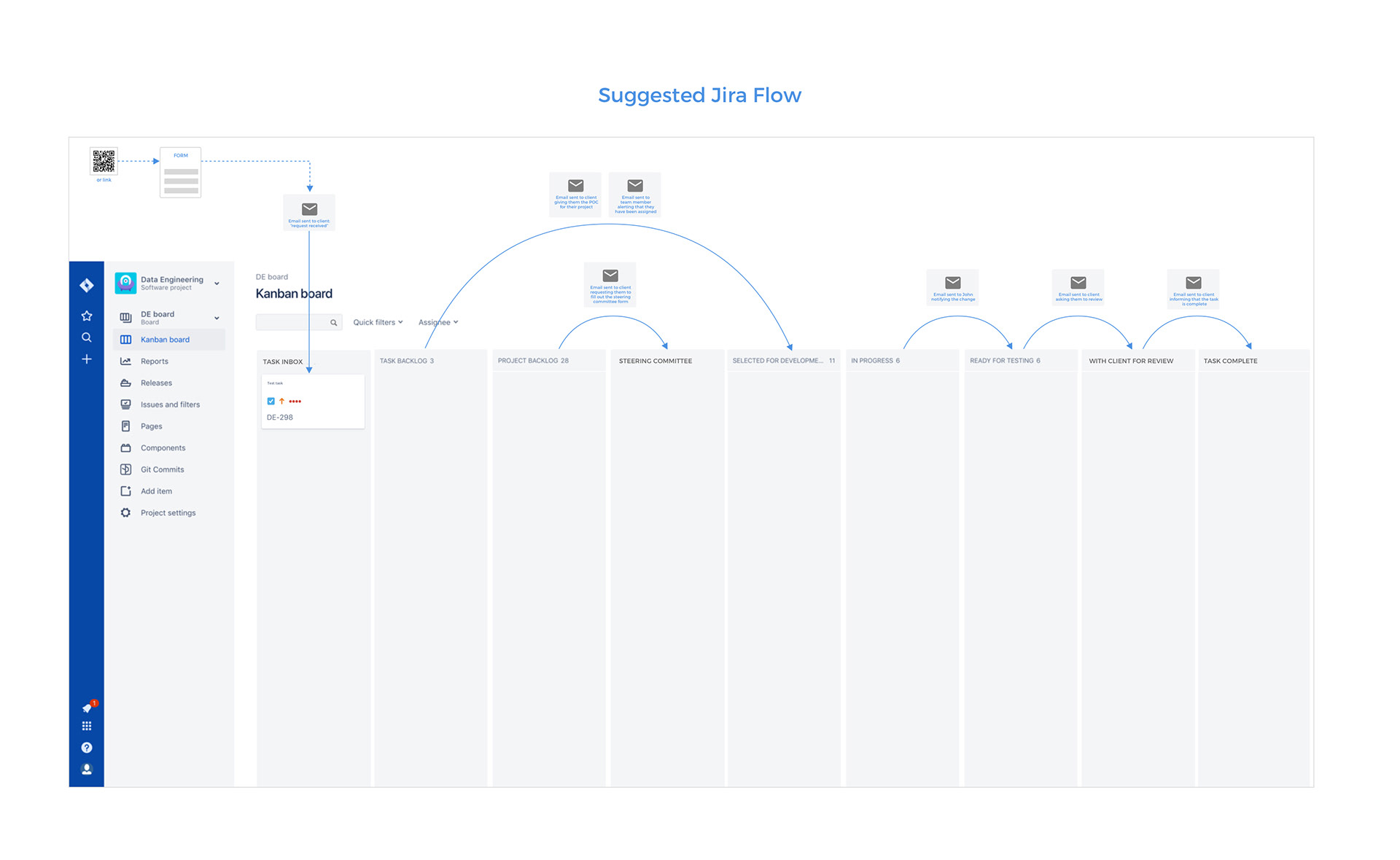 Dynamic Multi-Branched Request Form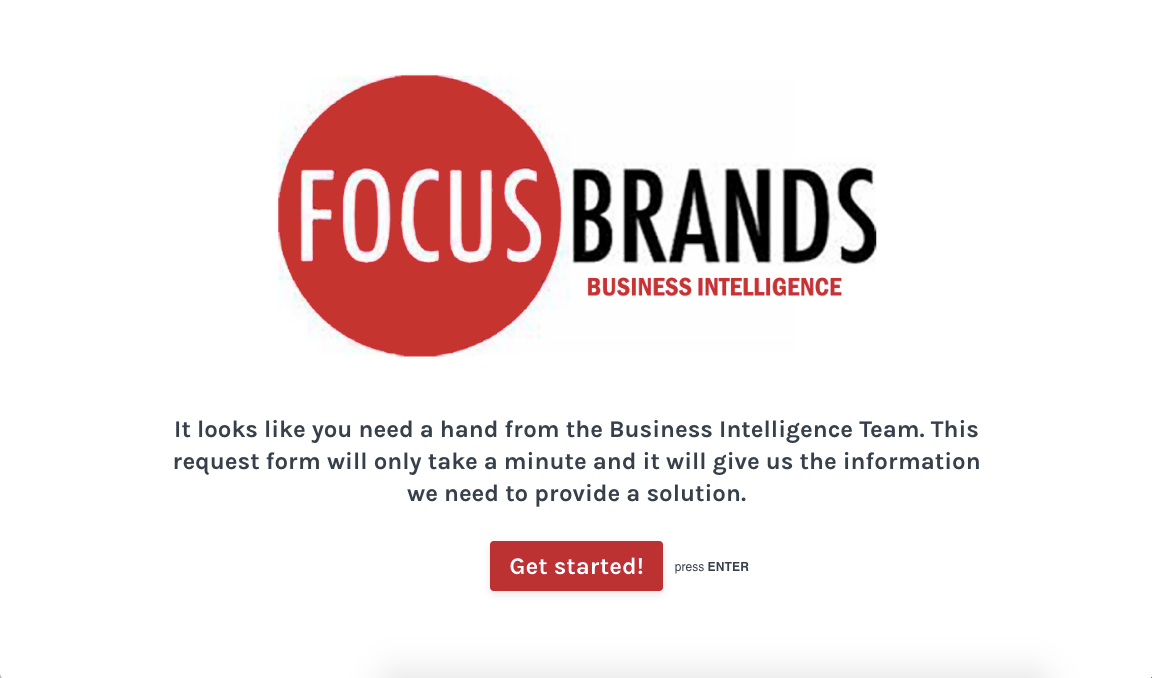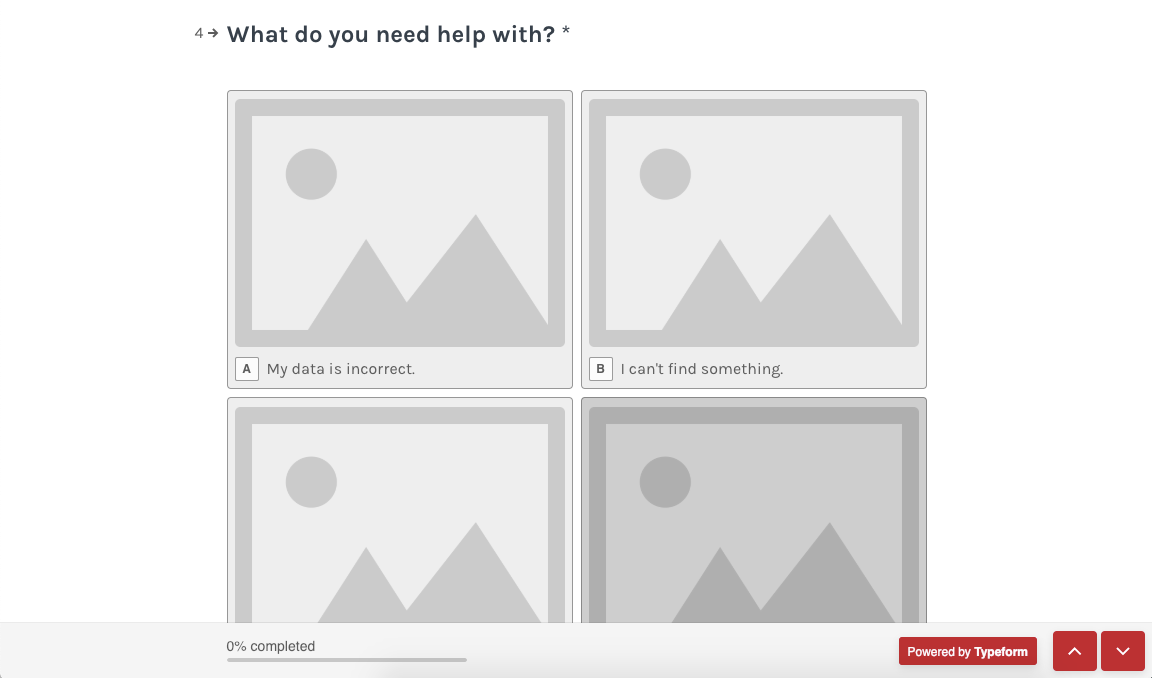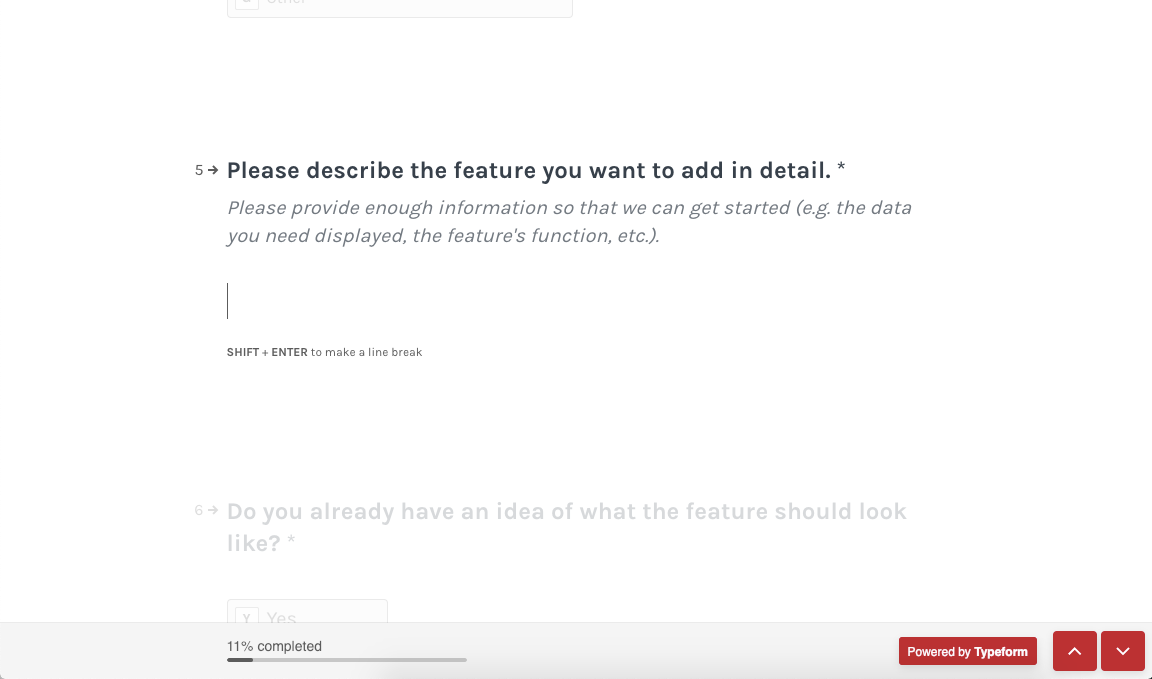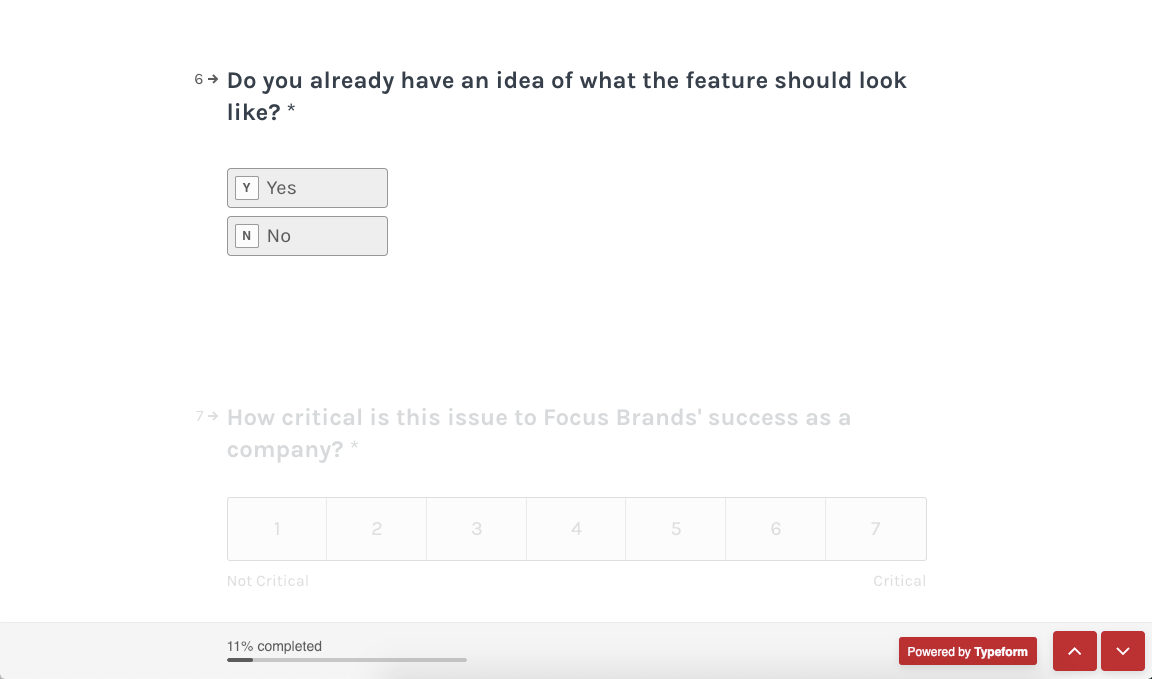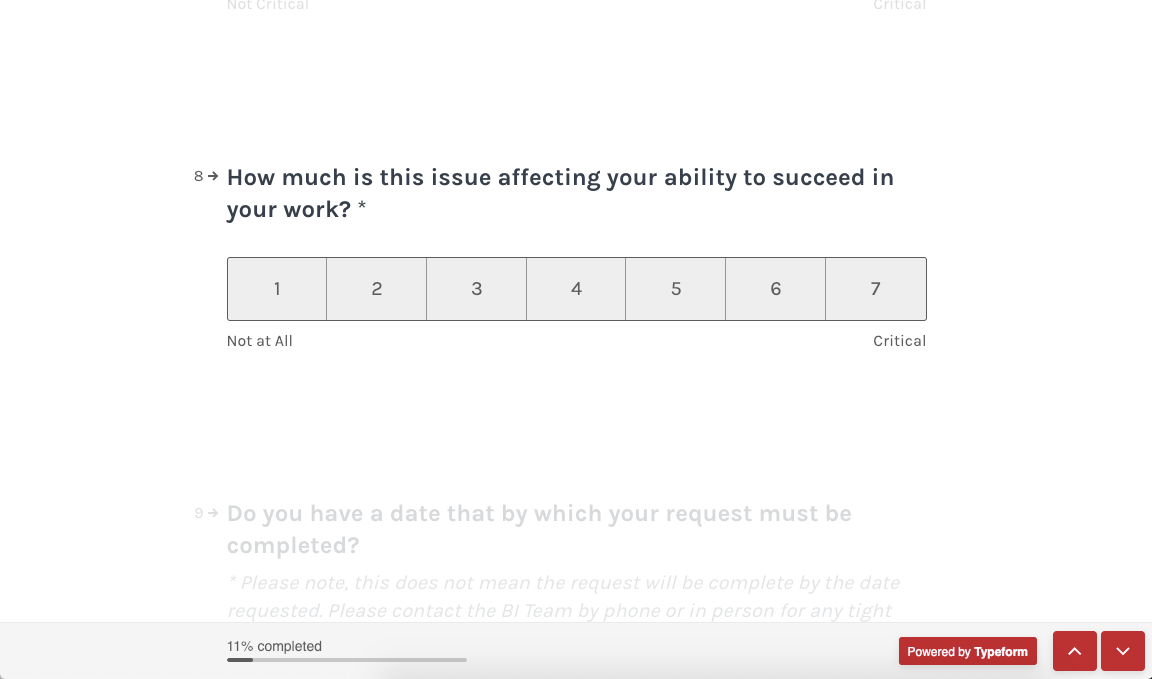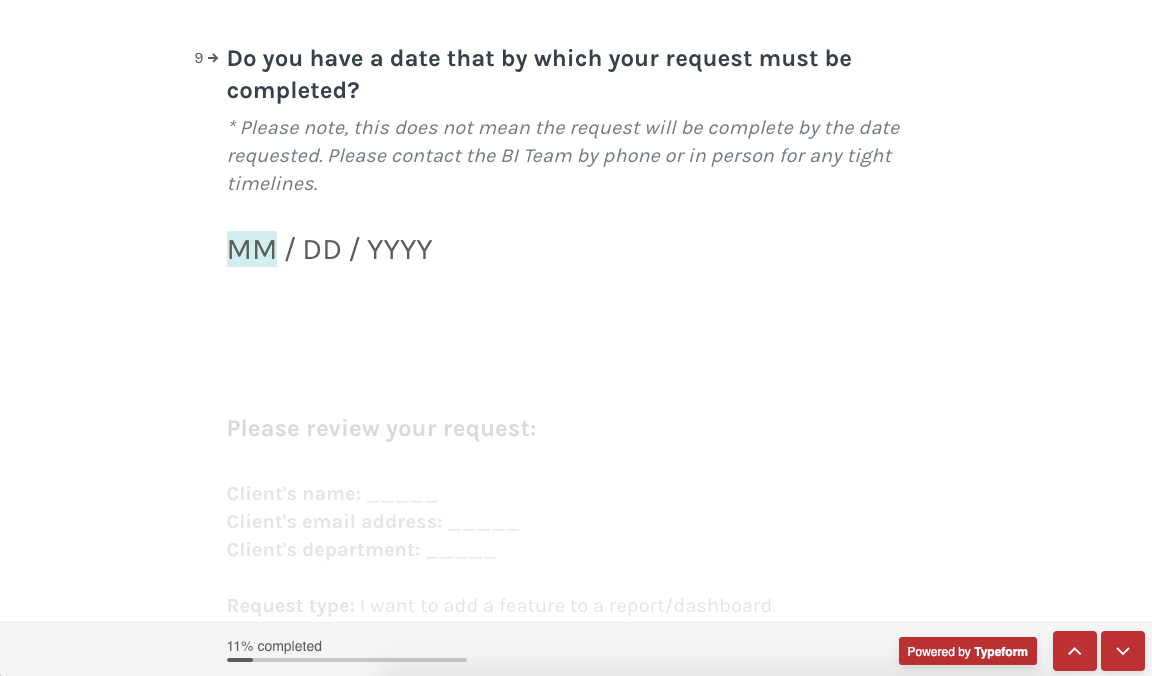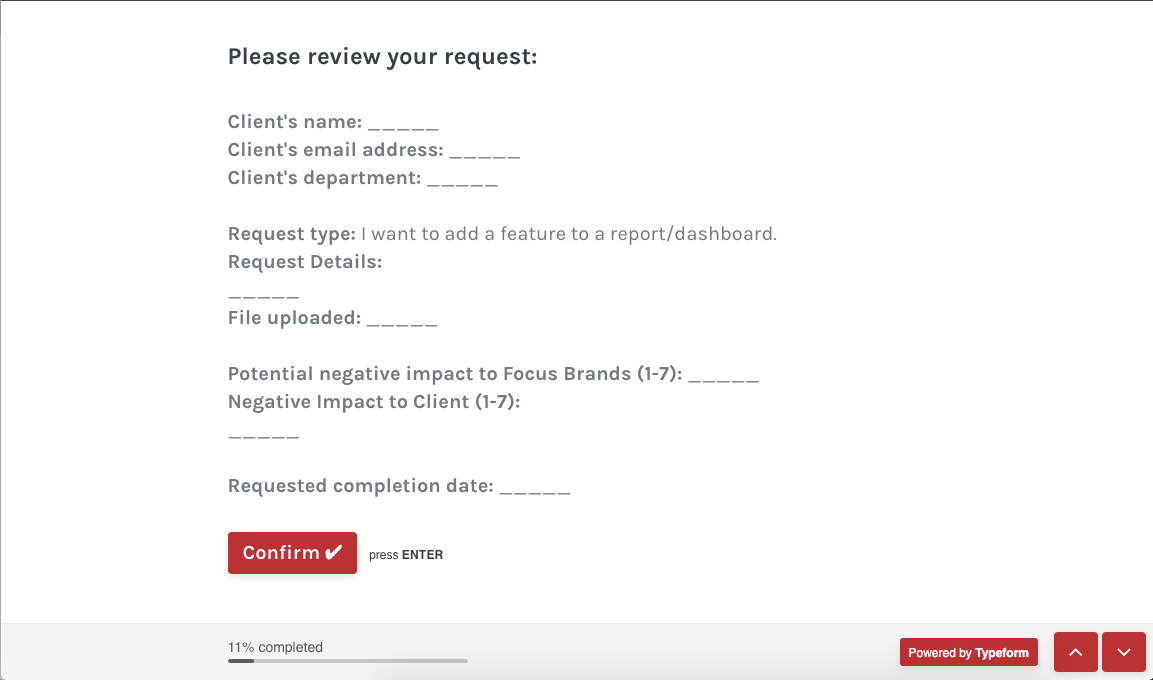 Automated Jira-Integrated Email Scheme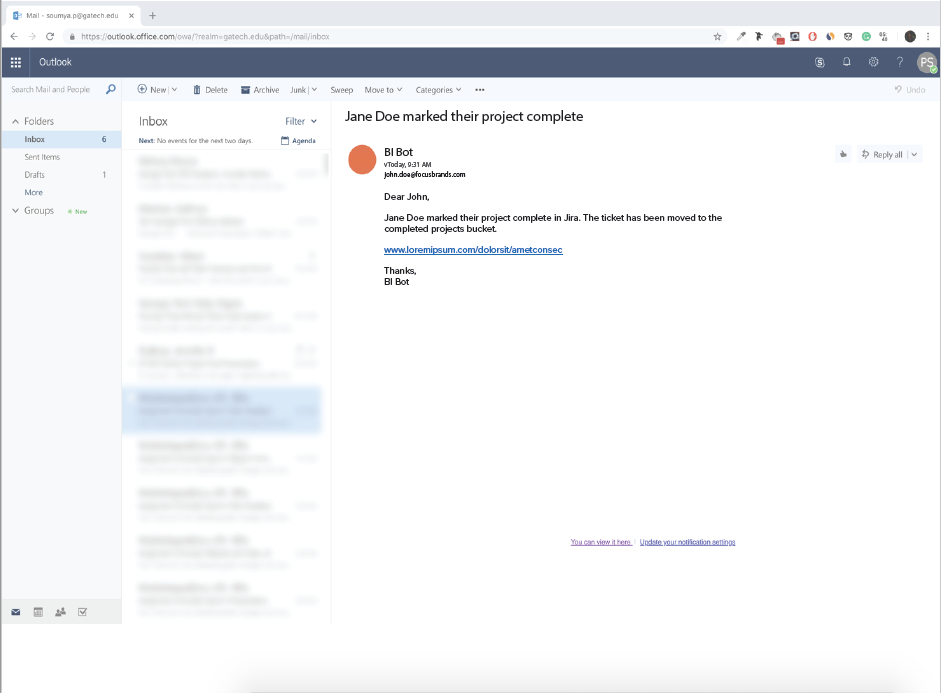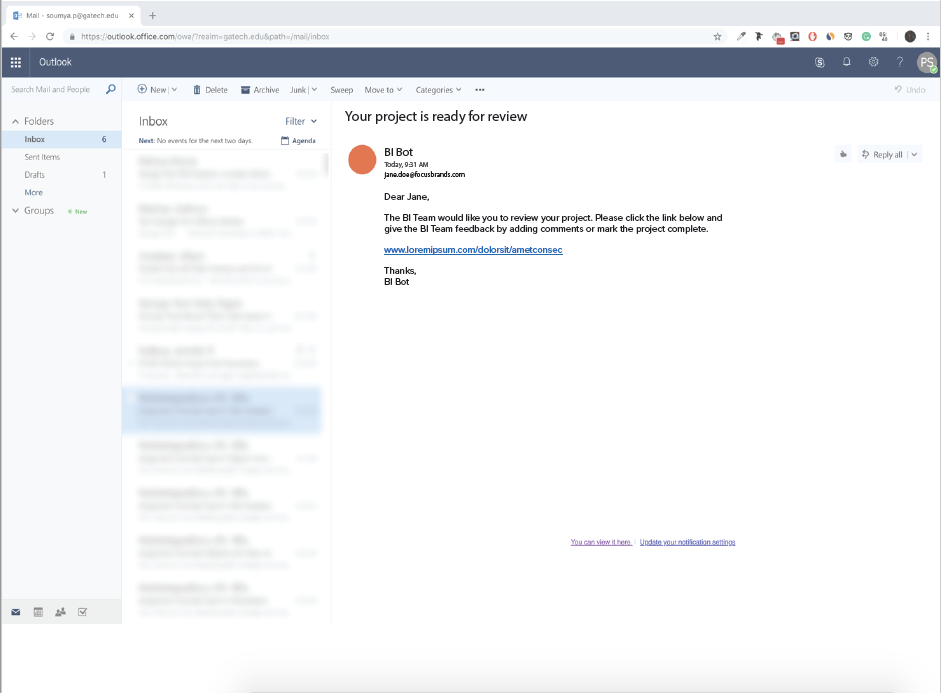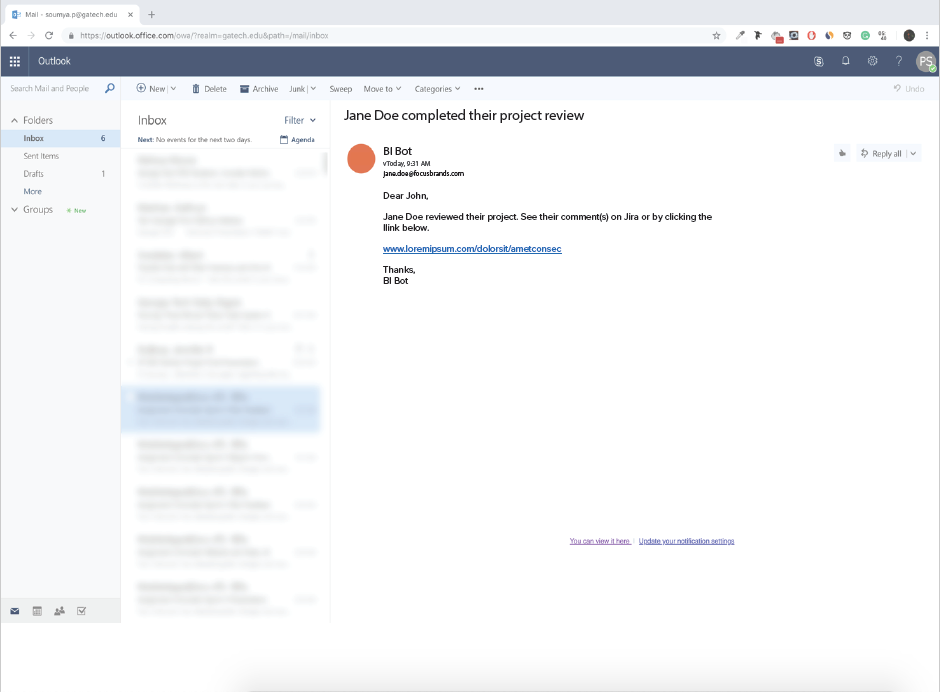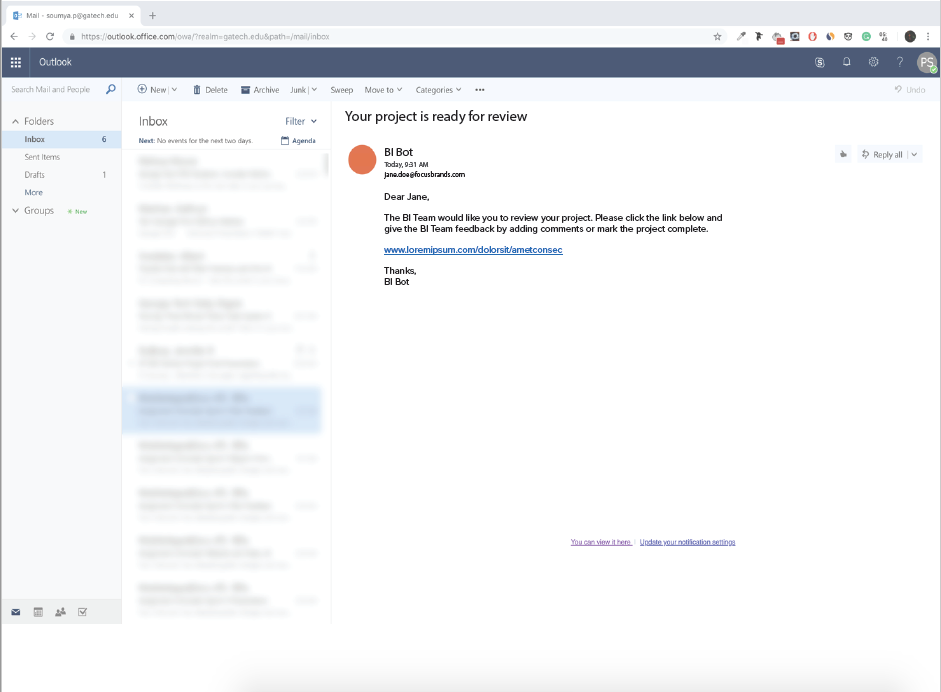 1. Task-based benchmark testing
We conducted usability testing with both BI team members and clients onsite at Focus Brands headquarters. We requested that participants in both categories 
follow a think-aloud protocol
to maximize the potential insights to be gained. We also included
post-session questionnaires
to gain an even deeper understanding of the participants' thoughts and experiences while using the system.
I was the co-designer and lead moderator of the testing sessions with clients of the BI team.
2. An expert evaluation session
Because ours was a service design project that involved integrating software packages with Jira, we recruited an individual with domain expertise in both Human Computer Interaction and Jira.
I was the session notetaker.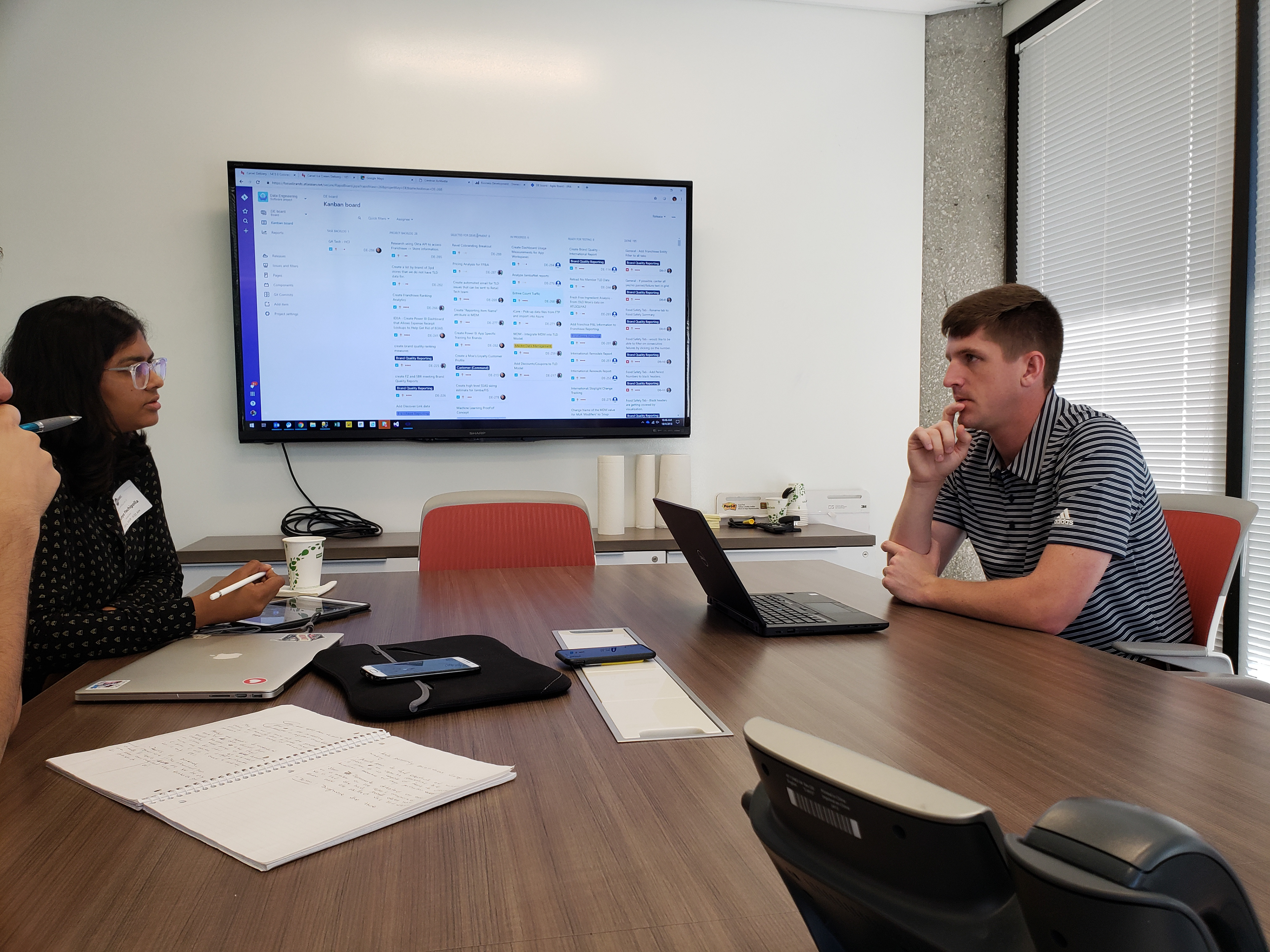 * The results of this study are specific to the subjects recruited throughout the five month project process and are not meant to be generalizable to the rest of the population.
- System is practical and immediately implementable.
- It increases client engagement throughout project lifecycle.
- It is simple and intuitive, streamlining internal and external communication processes.
- It reduces the amount of direct communication with clients required during a project.
- There should be an "emergency" option for clients who have incredibly urgent requests.
- Some Jira board components should be hidden from the non-administrator view.
- Use of the company's "single sign-in" system would eliminate some early steps in the form.